Anniversaries of student mobility
1,000th outgoing student and 500th incoming student at St. Pölten University of Applied Sciences
Recently, St. Pölten University of Applied Sciences recorded two special anniversaries in the area of student mobility. Sophia Klöbl, a student in the bachelor programme Media Technology spent a semester abroad as the 1,000th outgoing student. In addition, Dmitry Gusakov from Moscow State University of Railway Engineering came to St. Pölten UAS as the 500th guest student.
Valuable experiences abroad
About a quarter of all students at St. Pölten UAS use the opportunity to spend a semester abroad during their studies. At the same time, more and more international students choose St. Pölten UAS as a university for their semester abroad. In the winter term 2016/17 St. Pölten UAS set a new record with 47 "Incoming Students".  
The 1,000th outgoing student and the 500th guest student were recently officially received at St. Pölten UAS. Sophia Klöbl returned at the end of January from her semester abroad at Leeds Beckett University in Great Britain. The student of media technology took courses in 3D modelling, 3D animation and post-production.
For Dmitry Gusakov from the Moscow Railway University, the study abroad at St. Pölten UAS has just begun. Within the framework of a double-degree programme, he will spend one year in the bachelor programme in Rail Technology and Mobility, where he expects a broad spectrum of topics ranging from traffic planning to telecommunications.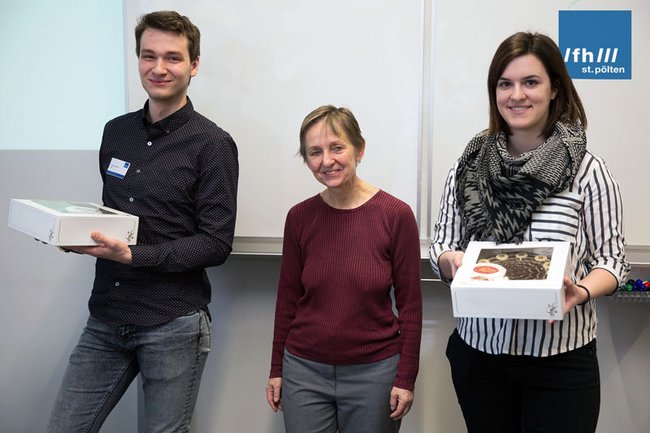 Content- and culture-related exchange
Monika Vyslouzil, Chairperson of the UAS Board, is pleased about the increasing worldwide exchange of students. "International mobility is not only supported at St. Pölten UAS, but is also expressly promoted. With a network of more than 125 partner universities all over the world, we can offer our students numerous options for their international experience. From the other side, international guest students are a great enrichment to content- and culture-related exchange at St. Pölten UAS."