iLab – The Successful Concept Is Back
Gate 1 and 2 are completed, leaving the students with 4 project ideas they are working on with dedication
After a successful kickoff in the winter semester 2018 and having received the "Ars Docendi" (National Award for Excellent Teaching), the St. Pölten UAS is now offering the optional module iLab for the second time.
A total of 22 students take part in the iLab in the winter semester 2019. In addition to students from the St. Pölten UAS, incoming students from the USA, the Czech Republic, France, Belgium, Slovakia and the Netherlands have also decided to participate in the Interdisciplinary Lab (iLab).
The students collaborate on cross-departmental and practice-oriented projects. The real-life conditions, under which the groups deal with the solution of socially relevant problems, are a particularly distinguishing feature of the iLab concept.
Semester Kickoff
During a joint two-day teambuilding event in Ottenstein at the beginning of September, the participants of the iLab got to know each other and already discussed essential elements necessary for a successful cooperation.
Afterwards, the teams, assisted by lab masters and coaches, started working on the first tasks.
First Milestones
The iLab consists of two phases:
Concept Development
and Product Development
The teams have already successfully achieved the first important milestones in the concept development phase.
On 25 September, Gate 1 took place in the large conference room of the town hall in St. Pölten. As part of the decision gate, the teams presented the results of the analysis phase in which they intensively dealt with a real-world problem.
The pitches were evaluated by a jury comprised of external and in-house members as well as by the other teams. The projects which were considered least likely to be further developed were eliminated in Gate 1 and the team members of those projects joined the remaining projects, thus leading to the formation of bigger groups.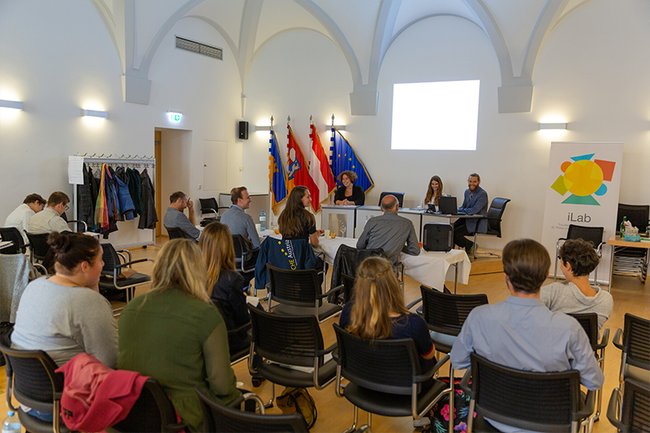 Gate 1 – Presentation of the first concepts | Copyright: Carola Berger 
Phase 2 Has Started
At Gate 2, which took place on 23 October in the Theaterwerkstatt of the Lower Austrian Provincial Theatre, the potential for further development of the projects was examined once again.
4 teams were able to convince the jury with their problem-solving approaches. Gate 2 introduced the second phase of the iLab – product development – which the students now start working on in groups of 4 to 5 people.
The four remaining teams will deal with the following topics until the end of the semester: How can we ...
... make regional products more accessible for people in Lower Austria?
... use digitalisation to promote nature protection and biodiversity?
... use digitalisation to promote sexual health education?
... reduce food waste in households with three or more people?
 We are looking forward to the further personal development of the students and the innovative solution approaches developed by the teams!
You want to know more? 
Find out more about the Interdisciplinary Lab (iLab).