Student Residences
There are three student residences in close proximity to the St. Pölten UAS: "Campus Domus", "Wihast" and "Campus Villa".
Student Residence Campus Domus
Herzogenburgerstraße 69, 3100 St. Pölten
Domus Liegenschaftsverwaltungs GmbH
T: +43 2742 90 500
E: buero@domus.co.at
www.campus-domus.at
Student Residence WIHAST St. Pölten
Herzogenburgerstraße 36, 3100 St. Pölten
Wirtschaftshilfe der Arbeiter_innen Studierenden Österreichs
T: +43 2622 884 08
E: heimstp@wihast.at
www.wihast.at
The Living City. CampusVilla.
Living and Studying in a Unique Atmosphere
Matthias Corvinus Straße 8, 3100 St. Pölten
Living City GmbH
T: +43 2742 37 732
E: office@livingcity.at
www.livingcity.at/campusvilla
Further Accommodation
Kolpinghaus St. Pölten
Kolpingstraße 1, 3100 St. Pölten
Kolpingsfamilie St. Pölten
T: +43 2742 77521-0
www.kolp.at
Bildungshaus St. Hippolyt
Eybnerstraße 5, 3100 St. Pölten
T: +43 2742 352104
www.hiphaus.at
Private Rooms, Shared Accommodation, and Flats
You can find many inexpensive private housing options in St. Pölten. The costs for a room in a shared flat amount to approximately 200 to 300 EUR per month.
Students and lessors can put up ads directly on the St. Pölten UAS notice board in the Campus and Study Centre, or on the eCampus.
Housinganywhere.com  - Housing Platform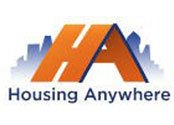 Are you looking for an interim tenant for your flat or student residence room while you go on an internship or semester abroad? The St. Pölten UAS now offers a new service for students – www.housinganywhere.com is a free and easy platform to offer rooms for rent!