IT-symposium on the "Internet of hacked things"
Follow-up report on the IT-Security Community Xchange (IT-SeCX) 2016
In early November nearly 800 IT-experts met at the tenth IT-Security Community Xchange (IT-SeCX) at St. Pölten University of Applied Sciences. This year's programme devoted itself to the "Internet of Things" (IoT). International IT specialists including John Matherly the founder of the first and most popular system search engine "Shodan", discussed current developments in this area and the associated security aspects.
At this year's IT-SeCX at St. Pölten UAS everything revolved for an evening around the "Internet of Things". By the "Internet of Things" is meant the ever-growing trend towards digitalization, which does not seem to stop at any device: from the refrigerator which orders automatically, to the car with an internet connection or the camera with web interface.
"Today formerly simple products are equipped with software logic and receive network interfaces for communication with the Internet. This development is of course associated with particular challenges in the field of IT security. The goal of this year's IT-SeCX was therefore, to illuminate the topic and together with international experts to facilitate an exchange with one another", explained Thomas Brandstetter, Senior Lecturer in the Department of Computer Science and Security at St. Pölten UAS and chairman of the IT-SeCX programme committee.
"In the age of the 'Internet of Things', more and more of the devices used in everyday life and in companies are connected to the Internet. When purchasing products: price, function and design often play the most important role. Hardly anyone looks at IT security. IT-security is usually only to a greater extent observed where it is required by law: for example, in the area of health care when dealing with sensitive and medical data and in business areas where the Data Protection Act plays a role", said Ernst Piller, Head of the Institute of IT Security Research at St. Pölten UAS.
Internet of Things already reality?
The keynote address at this year's IT-SeCX was given by John Matherly, the founder of the first and most famous system search engine "Shodan". Unlike content search engines such as Google & Co., which search for keywords or content on the Internet, Shodan makes it possible to search for certain systems: such as Internet-capable SAT-receivers, webcams and industrial controls. In his lecture "Mapping the internet of insecure things: a peek below the surface", Matherly dealt with the extent to which the "Internet of Things" (IoT) has already become reality, which IoT systems can be found today on the Internet and which security problems are associated with them.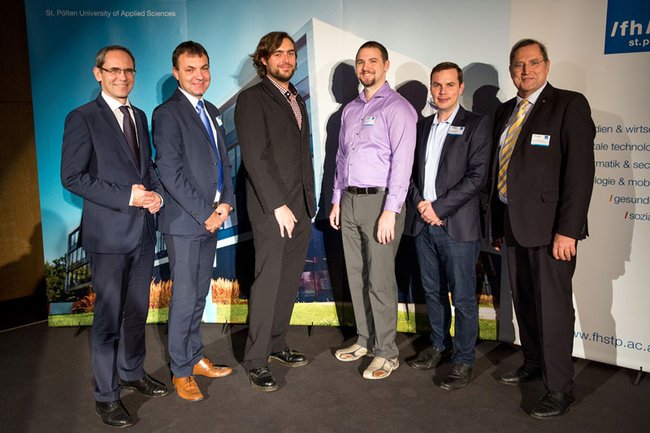 From autonomous robots to smart-home-hacking
The subject of the "Internet of Things" covers a wide range of topics: from the automotive industry, to industry 4.0, to smart home applications, etc. The programme of this year's IT-SeCX was correspondingly broad.
Philipp Schaumann from Sicherheitskultur.at reported on the theme of "Ethics for Autonomous Vehicles". Stefan Kiese from ERNW GmbH dealt in his lecture with the topic "Software Defined Radio". Thomas Bleier from B-SEC KG spoke about attacks on critical infrastructure, Marco di Filippo from Koramis talked about private smart-home-hacking and Robert Luh from St. Pölten UAS made a presentation on "Love and Hate. Sentiment Analysis for Unknown Applications " from the research area of malware analysis, how behavioural patterns of unknown applications are determined.
In addition to lectures, this year there were also appropriate workshops in which interested parties in the "Internet of Things Hack Lab" could try out hacker-methods and defend against attacks, test the hacking of wireless microphones or build an alarm system based on a Raspberry Pi.
Lectures großer Festsaal
Lectures kleiner Festsaal