The legendary student guide of St. Pölten
If you're feeling lost in your new student-home-town, here is the perfect St. Pölten guide. You can find the best places in this charming town!
From the capital to a small town
Just a 28 minute train ride away from Vienna, you can find the little gem called St. Pölten. The town is known as the little sister of Vienna, but with as much charm and class as its sibling. After your classes, you can stroll towards the town and have a traditional Wiener melange with an apfelstrudel, especially if you want a true Austrian experience, at Schauspiel or one of the other cafes that St. Pölten has to offer. If you have a sweet tooth and want to treat yourself, create your own fro-yo at MU. 
Back to nature
If you want to enjoy the fresh air, have no fear. There are a lot of places to explore in your new town. A popular place to hang out, no matter the season, is one of the lakes. Viehofner Seen is the perfect place for a summer barbecue, to take a dive in the blue water, or for a run when you're looking to release your energy. In the winter you have spectacular views of the frozen lake and the snow makes it look like a winter wonderland.
Haaaave you met St. Pölten's Maclaren's?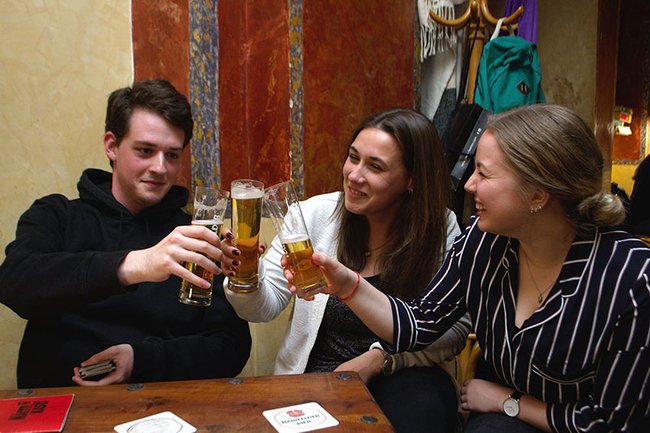 But let's be honest for a moment, most students enjoy life the best when the sun goes down and it's time to get a drink. Thank God, there are a lot of opportunities to choose from. If you are a fan of 'How I met your mother' you are in luck, the Maclaren's Pub is the holy grail of all the HIMYM pubs! From the famous Blue Horn of Ted, Barney's Stormtrooper and famous quotes, this is the place to go to shout ''It's gonna be -wait for it- legendary!''
No matter what time, what kind of mood you're in or what you need, St. Pölten won't let you down. Even if you want to be in a big city, St. Pölten offers a great train station to get you to Vienna. So, if you are ready to discover your new town, quote Barney and yell ''Challenge accepted!'' 
About Naomi Melchers
My name is Naomi Melchers and I'm a Dutch student all the way from Rotterdam! I study International Media and Entertainment Management in Breda and follow the English media courses at FH. St. Pölten.