The Marshall Plan Scholarship Holders
Two Media Technology students of the St. Pölten UAS who are going to complete a semester abroad at the Utah Valley University in the USA in the winter semester 2019/20 have been awarded a Marshall Plan scholarship. Likewise, two incoming students from our partner university in Utah have also been granted a Marshall Plan scholarship for their stay in St. Pölten next semester.
During their exchange semester, all students are going to write a research paper in addition to attending lectures at the host university. The scholarship is worth between EUR 4,000 and EUR 10,000 – money which the students can put to good use to cover their flight, accommodation and living costs in their host country.
The following students have been granted a Marshall Plan scholarship:​
​Omar Awad, St. Pölten UAS:
Research paper: Image Stabilization for Video Production
Supervisor: Michael Bock
Melissa Baird, Utah Valley University:
Research paper: Technologies that Have Shaped Film Editing: a Comparison between Adobe Premiere and Avid Media Composer and the Direct Impact They Have on Non-Linear Editing
Supervisor: Alois Frotschnig
Jana Fitz, St. Pölten UAS:
Research paper: The Negative Health Implications Caused by the Use of Computers and Smartphones
Supervisor: Mario Heller
Jackson Lloyd, Utah Valley University:
Research paper: Hiring Prospective User Experience Designers: How the Rise of User Experience Design Bachelor's Programs Will Impact Employers' Hiring Decisions
Supervisor: Alois Frotschnig
On the part of the Utah Valley University, the papers will be supervised by Prof. Michael Harper.
​Deputy US Ambassador Awards Scholarships
The Marshall Plan Foundation hosted a symposium at the Museumsquartier in Vienna on 18 June 2019.
Robin L. Dunnigan, Deputy Chief of Mission of the US Embassy in Austria, formally presented the scholarships to those students who are currently in Austria.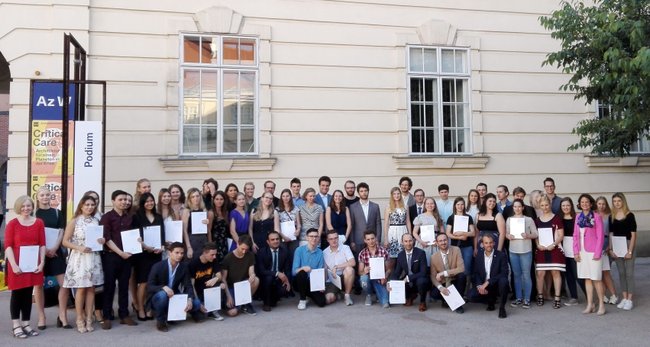 The handing over of the scholarships was embedded in a Marshall Plan Lecture during which Prof. Günter Bischof (Austrian Marshall Plan Chair, University of New Orleans) reported on images of the USA held by Europeans and Austrians. Dr. Wolfgang Petrisch (President of the Marshall Plan Foundation) and Dr. Monika Platzer (Head of Special Collections/Curator at the Architekturzentrum Wien) then led a podium discussion about various images of America.​