In accordance with the strategic direction of the department, the study programmes and research activities are closely linked and manifold. Innovative study formats are established, e.g. the European Project Semester, which offers international students one semester taught in English. The dual study approach enables a study programme with an employment component: placements and theoretical training blocks at cooperating companies are integrated parts of the curriculum. An interdisciplinary master programme links digital technologies and healthcare. Graduates are experts in interdisciplinary conception, implementation, evaluation and further development of scenarios in healthcare, supported by digital technologies.
Excellently equipped in the world of media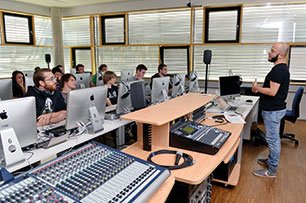 Our laboratories and the appropriate equipment are placed at our students' disposal 24 hours a day, 7 days a week.