WAROMA – a new waiting room management
This waiting room management system should make the experience easier and more pleasant for patients as well as for management.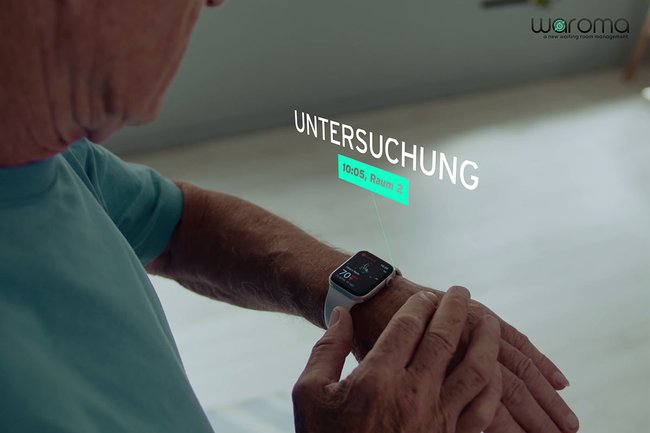 Project
Sitting in the waiting room of a doctor's office or clinic is a shared experience across nearly all humankind. Most people, regardless of where and how they live, have been in this situation at least once in their life.
For patients, hospital waiting rooms have a greater importance than health professionals or hospital management might recognize. Often, waiting rooms are the first contact point for patients when visiting a clinic and especially outpatients spend the main part of their stay inside a waiting room. On the other hand, waiting rooms play a major role for health professionals in managing patient flow, acting as the main buffer in treatment routine.
Outside the organizational importance, the emotional component of waiting room attendance is of great importance from the patient's perspective. When being in need of medical help, anxiety and restlessness builds up easily. Managing this emotional component again strains health professionals' capacities to keep up an effective workflow.
The purpose of this project is to find a digital waiting room management system that can tackle these challenges and improve the waiting room experience for patients as well as improve workflow from a management perspective.
Theoretical background
Nowadays, digital workflow tracking and improvement systems, first developed for industrial use, are being introduced into hospitals. In an industrial setting, the main purpose of these systems is to collect live data of when and where something happens to an asset or part in the production chain. This data can then be displayed to monitor workflow or inform staff of the current state of the part or asset.
When taking this concept to a clinical environment, the use case soon becomes obvious. In hospitals, the patient represents an asset and is part of the workflow, but in contrast to the industrial example above, they have a behavior and needs of their own.
Tracking this behavior and catering these needs outside the primary task of care is not a clinical standard yet. As for the project, we want to research the possible needs of patients attending a waiting room as well as health care professionals' requirements towards a system that enables them to cater those needs, while being able to better manage waiting room population and overall workflow. Following this, technical solutions for these problems, their effectiveness and acceptance will be assessed.
Technical background
Person and Asset tracking is increasingly being used in hospital environments. Although the technical approach and feasibility is well investigated, the social effects of implementing such a system remain underreported. In recent years, the increasing popularity of wireless local area networks (Wi-Fis) has led to a growing number of devices utilizing wireless fidelity (Wi-Fi) networks.
This application has been used in various industries to enhance management processes. In that regard, we believe that this technology may enhance patient tracking, as the existing WLAN architecture in many clinics may allow for real-time tracking of patients.