Multidisciplinary project: "Der Kleine Tag"
Students have developed an app for a children's musical, which provides a view of the performance and a look at the work behind the scenes while at the same time inviting users to play an online game.
Every semester, many students from all over the world travel to St. Pölten to participate in a European Project Semester (EPS) on the premises of the University of Applied Sciences. In the first international collaboration of this year, the students worked with a local music school.
The so-called "interactive after movie" was produced by participants of the European Project Semester in cooperation with a local music school. Users can expect to have a lot of fun playing games which will then reward them with the children's performance of the musical "Der Kleine Tag". In addition, the Internet application gives users a unique look behind the scenes of a creative musical process. The app will be featured on the website of the St. Pölten University of Applied Sciences.
Objective
The main objectives of this project were the filming of the play "Der Kleine Tag" and the development of the features in order to create an app that transposes the universe of the musical and its surroundings.
Project steps
Brainstorming
Decision on the global idea of the app and features
Brainstorming on the extra content
Preparation of filming
Filming of the extras
Filming of the play
Post production of the play and extras
Translation
Subtitling
Decision on the global app content and design
Designing of the app
Decision on the games
Designing of the games
Encoding of the app
Encoding of the games
Launch of the app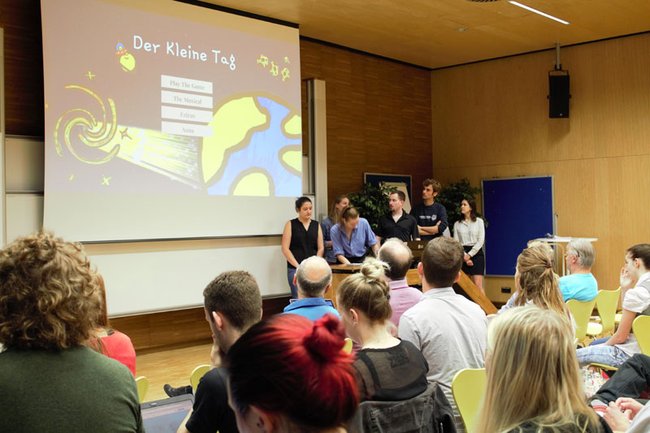 Outcomes
For one and a half months, the EPS students followed the preparations of the musical "Der Kleine Tag". The final result was performed by the children at the St. Pölten UAS in April. With their cameras, the international students captured not only the play itself but also the mood.
The videos came alive in an Internet application. Users can become part of the story "Der Kleine Tag" by playing three games including puzzles. For every completed game, users will be rewarded with one part of the musical.
The app includes not only games and the full performance of "Der Kleine Tag" but also many other features. In an extras menu, users can take a look behind the scenes, explore how the children's musical was created behind the walls of the St. Pölten school of music, or learn about the story of Anna, one of the musical's stars.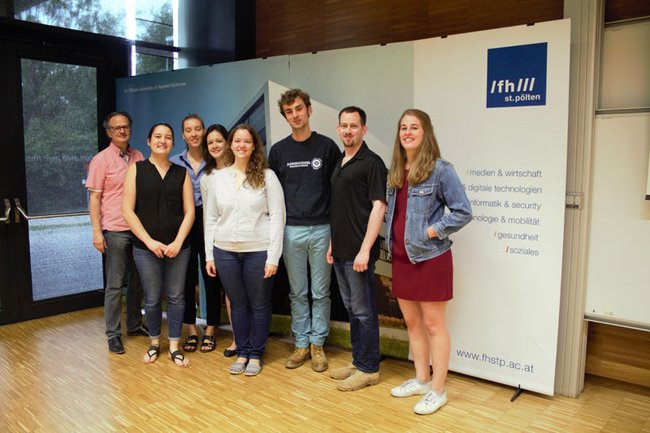 Michael Iber and his team | Copyright: FH St. Pölten / Katharina Anderl