Rail Lab – Rail Transport Lab
The raiLAB is an opportunity for our students to train hands-on skills. Highlights include the simulators that allow users to practically explore and experience railway operations. Using the locomotive simulator, students can test the driving dynamics characteristics of a train, the functions of different train protection systems, and the effects of braking systems on trains.
A signal box simulator imitates the workplace of a traffic controller. The challenges of managing ongoing railway operations soon become clear to the students when they change switches on their own. To do this, they have sections with varying degrees of complexity at their disposal, e.g. around the main station of St. Pölten.
In class or during events, the students also get to know simulation systems of partner companies such as Österreichische Bundesbahnen (ÖBB), Logistik Service GmbH (LogServ), or foreign partners within the framework of the Internationale Eisenbahnbetriebswoche (international railway operation week).
However, raiLAB is more than training with simulators: studying successfully means that the students get to be part of designing and planning future systems later on. At the St. Pölten UAS, they acquire the necessary practical skills in using software application. Under the roof of the raiLAB, the students familiarise themselves with digital tools on various topics of the railway sector:
Timetable scheduling
Simulation of railway networks
Digital construction
Routing
Structural planning
Simulation of reinforced concrete structures
Simulation of energy supply networks
Successful Student Projects with Digital Tools
View video (in German): simulation of railway networks: simulation of an extension and new route St. Pölten – Krems for the establishment of a transit point in Krems
Rudolf Cerny und Patrizio De Rosa, 2021
Article on a student paper with simulation software:
Maximilian Wirth, Andreas Schöbel: "Headways in ETCS Levels 2 and 3 on the main urban railway line in Vienna", Signal + Draht, 4/2020.
Part of the virtual campus tour
360-degree view! Discover the Rail Lab in the virtual tour.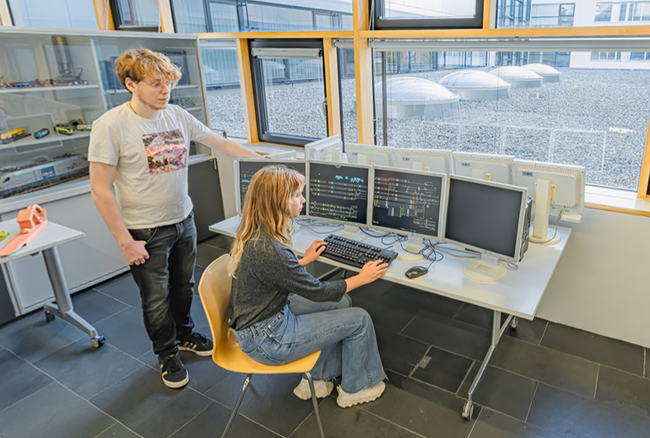 Where can I find the lab on campus?
📍 Rail Lab: A.1.39 – Download Navigation Guide (PDF)