Lifelong Learning Is a Prerequisite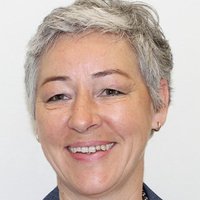 Daniela Wewerka-Kreimel
UAS Lecturer
The current edition of our magazine "future" deals with the subject of Future Work Skills. What we wanted to know: name three things that everyone in your profession has to be able to do! Are "Future Work Skills" a relevant topic for you? How do you stay fit for the working world of the future?
Dietician and UAS lecturer Daniela Wewerka-Kreimel:
Three Skills:
Dieticians work with people. In addition to professional competencies, they need social skills, a high degree of resilience, and good communication skills. Lifelong learning is the prerequisite, the law governing our profession even includes a further training obligation.
Relevant Topic:
Future Work Skills are certainly important for us – after all, we prepare our students for the future! The healthcare sector is undergoing major changes, so dieticians have to change and adapt as well. The curricula of the study programmes are continuously evaluated and adjusted to the requirements of the future.
Working World of the Future:
I stay fit for the future by remaining curious and open for new things such as new technologies or the digitalisation. The coronavirus crisis has shown us how fast working conditions can change.
Daniela Wewerka-Kreimel is a dietician and lecturer at the Department of Health Sciences at the St. Pölten UAS. She belongs to a working group of specialists at the European Federation of the Associations of Dieticians (EFAD).