Alexa makes our homes smarter – Five new skills show the assistant's potential for the healthcare and social sectors
Alexa, what can you do? A short search reveals: she can do a lot. And the Alexa for Wellbeing Online Challenge of the St. Pölten UAS, which was carried out within the framework of the annual build.well.being event, has added several more application possibilities.
Over several days, the participants of the challenge formed interdisciplinary teams to develop new skills for the versatile language assistant. The focus was on application areas in the healthcare and social sectors. The five best skills among the total of 15 teams were awarded Amazon Echo prizes.
Alexa, open ...
Guided by experienced mentors, the 40 participants of the challenge set out to develop new functions for Amazon's Alexa – and UAS lecturer Andreas Jakl, the initiator of the online challenge, is very satisfied with the results. "Our participants developed promising new application possibilities with much spirit of innovation, creativity and know-how. It was good to see how eagerly the teams worked together and how professionally they pitched their skills."
The pitch videos of the five winning teams as well as further videos of the entire event and the challenge can be found here.
We would now like to introduce the five best skills in more detail.
1st Place | "Gedächtnistraining" (memory training)
Team: David Schwarz, Michael Macher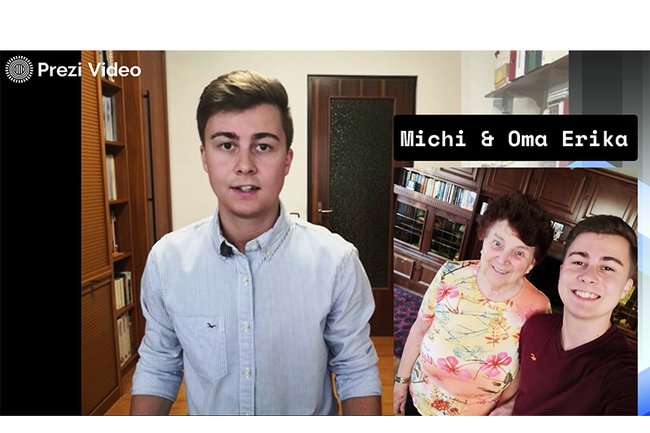 Dementia is a disease that will affect us more strongly and ever earlier in life in the future. The training with dementia patients is not only time-consuming for everyone involved but also a psychological burden for nursing relatives. The new skill for Amazon's Alexa designed by St. Pölten UAS students David Schwarz and Michael Macher offers smart and individual assistance 24/7.
The skill is designed to encourage persons suffering from dementia to train their memory and knowledge. In addition, it reminds the patients to take their medicine, to eat and drink, and not to forget their planned visits to doctors and family. The interaction and communication abilities of the affected persons are promoted by means of a tablet featuring not only training programmes but also media such as photo albums.
"We have developed the Alexa skill 'Gedächtnistraining' as a possibility for patients to carry out personalised memory exercises via Alexa", the students Macher and Schwarz explain regarding their objective and motivation. "In this way, we can not only slow down the progression of the disease but also provide assistance to nursing persons and give them a little breathing space."
Smart Engineering student David Schwarz and Interactive Technologies student Michael Macher are very pleased with winning first place in the Alexa for Wellbeing Online Challenge. "We have learned many new things and established valuable contacts", says Macher.
2nd Place | "Easy Groceries"
Team: Florian Taurer, Julia Strebl, Victor Oliveira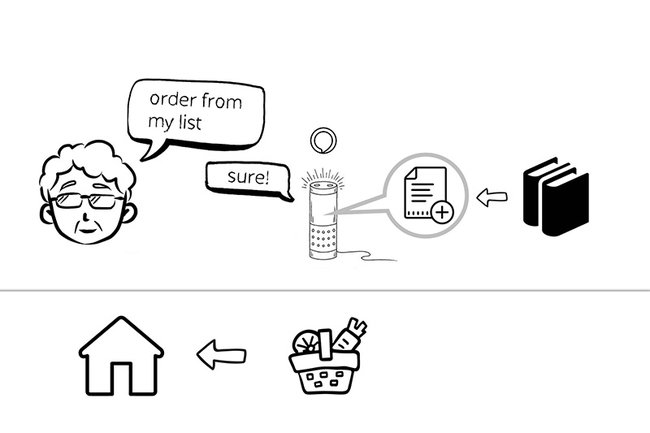 2nd Place | Copyright: Anna Baumgartner
A loaf of bread. Cheese. The latest TV magazine. How difficult can shopping be? For persons with reduced mobility, however, grocery shopping can definitely be a challenge. Elderly persons or those with mental or physical handicaps often find it hard to leave their homes and fulfil their basic needs, especially if they live alone – and the coronavirus has made the situation even worse. The UAS researchers Florian Taurer, Julia Strebl and Victor Oliveira committed themselves to the development of a skill that addresses this problem.
The objective of the Alexa skill "Easy Groceries" is to provide affected persons with an easy-to-handle assistant that writes smart shopping lists using artificial intelligence, offers ideas for cooking recipes, suggests local providers and comfortably orders everyday necessities online.
According to the researchers of the IC\M/T, "persons with reduced mobility and little technological knowledge in particular can profit from this skill which allows them to buy groceries comfortably and safely from home".
3rd Place | "Wunschkind" (planned child)
Team: Sara Hörtenhuber, Stefan Nebel, Tobias Rabo, Benjamin Zilles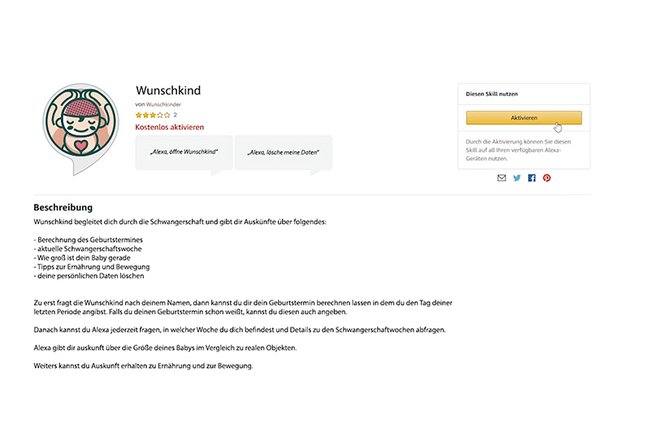 3rd Place | Copyright: Anna Baumgartner
"Alexa, open Wunschkind." Using an Alexa skill for pregnancy counselling? The four Interactive Technologies students Sara Hörtenhuber, Stefan Nebel, Tobias Rabo and Benjamin Zilles are convinced that although a pregnancy is certainly an exciting time, it is also a lot to cope with for many prospective parents. "There are plenty of literature and many different sources that parents can use to obtain information on this special time. However, this wealth of material can be a stress factor in itself and sometimes you just want everything from one source", the students explain.
The skill offers many features for future parents: hard facts regarding the user's own pregnancy and the growing baby, checklists and things to do, recommendations concerning legal or health questions, and the option to document every day in the form of a diary – a genuine project of the heart, the four students say.
4th Place | "Briefträger" (postman)
Team: Benjamin Winkler, Bianca Bichler, Corinna Karlovits, Daniela Macho, Jakob Schmidrathner, Mantas Bandonis, Patrick Bauer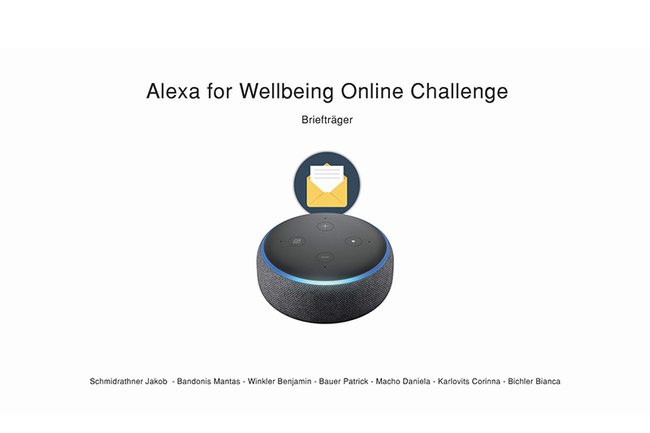 4th Place | Copyright: Anna Baumgartner
Young people prefer texting to talking on the phone. This can pose a problem for persons who are trying to reach this group but have no smartphone or simply do not know how to use one. This frequently applies to the older generation and can make communication difficult or even impossible.
The skill developed by Digital Healthcare students Benjamin Winkler, Bianca Bichler, Corinna Karlovits, Daniela Macho, Jakob Schmidrathner, Mantas Bandonis and Patrick Bauer aims to bridge the communication gap between the younger and older generations. Elderly persons, possibly in need of care, often feel lonely and need to be protected from social isolation. The coronavirus situation has shown once more how important direct contacts to other people are for wellbeing and health.
This is how the skill works: via voice control, text messages can be quickly and easily dictated to Alexa and sent to relatives, caregivers or acquaintances – without smartphone skills or a smartphone of one's own. The recipients receive a normal text message and can react accordingly.
5th Place | "Rauchfrei leben" (smokefree)
Daniel Dick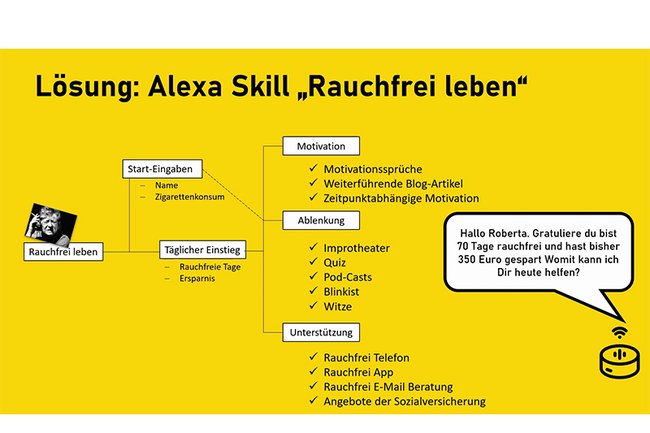 5th Place | Copyright: Anna Baumgartner
Roberta Rauch is a pensioner and wants to finally quit smoking upon her lung specialist's advice. However, this is not an easy endeavour for the woman, even though she is informed about the health risks of smoking. The Alexa skill "Rauchfrei leben" by Daniel Dick, a student of the master degree programme Digital Healthcare, could support people in their wish to quit smoking.
Several different forms of assistance can be selected depending on the user's needs: for example, Alexa can distract the users by suggesting other activities that let them forget the urge to smoke. Alternatively, it provides information on programmes and smoking cessation offers – direct links to various services are also conceivable in this context. In addition, Alexa offers various motivational slogans and figures pertaining to the users' own smoking behaviour and the successes already achieved.
What makes this skill special? The developer explains: "Although a number of Alexa skills for smoking cessation already exist, this new one distinguishes itself through the integration of regional partners and offers."
You want to know more? Feel free to ask!
FH-Prof. Andreas Jakl, MSc
Lecturer
Department of Media and Digital Technologies