St. Pölten UAS Project DIRENE on Digital Healthcare Wins MTD Award 2023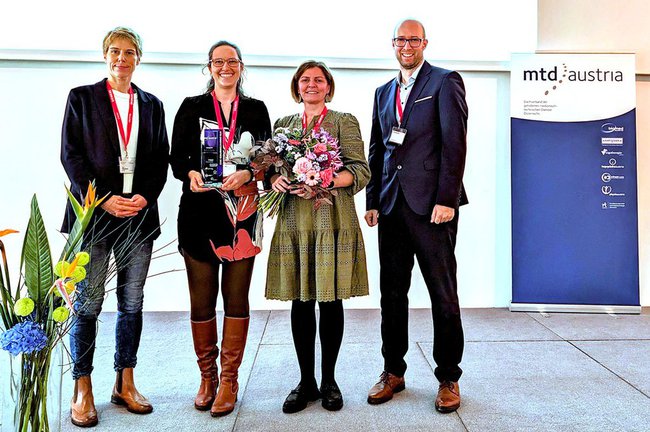 The St. Pölten University of Applied Sciences' research project DIRENE, which examines the use of digital technologies in rehabilitation, was honoured with the MTD Award 2023 in the category "financially supported projects".
The umbrella organisation of the "gehobene medizinisch-technische Dienste" (MTD, high-level medical-technical services) in Austria gives away this award to particularly successful innovation and research projects in the seven professional MTD fields of dietetics, biomedical analytics, logopaedics, ergotherapy, orthoptics, physiotherapy, and radiology technology.
Increasing Need for Care
The share of older people in need of care as well as chronically ill persons is constantly growing. Digital technologies can make an important contribution towards ensuring high quality in rehabilitation and medical care in the long term.
In order to train medical and social care professionals in the use of these technologies, the St. Pölten UAS and its partner institutions from Finland, Germany, Greece, and the Balearic Islands have developed a handbook and an online training programme, among other things, within the framework of the international project DIRENE.
Digital Competencies
The World Health Organisation estimates that more than two billion people will be using one or several medical assistance systems either temporarily or permanently by 2050. To live up to these requirements, it is necessary to approach medical care, therapy, and rehabilitation from new angles. The increased use of digital technologies can make an important contribution in this context.
"The areas of application are diverse: via online appointments, mobile rehabilitation over long distances in possible. For example, a computer can take over writing or reading through eye movement online", explains Senior Researcher and physiotherapist Anita Kidritsch from the St. Pölten UAS' Institute of Health Sciences.
"For members of the health and social professions to competently apply these technologies in rehabilitation, however, they need supporting training offers. We have created these in the project DIRENE", says Kidritsch.
Competence Framework, Handbook, and Study Module with Online Class
The project team made up of international experts created a common knowledge base, which resulted in a database on digital technologies, a handbook, and a study module offering freely available and multilingual learning materials for teachers and students. Among these offers is a comprehensive open online course for everyone in the healthcare and social sector who is interested in learning – in a mobile manner – to apply digital technologies in rehabilitation.
"We have created user-friendly and evidence-based teaching materials to be used by teaching and learning users in the healthcare and social sector. For digital technologies to be usefully integrated into rehabilitation and medical care, we need more than theoretical knowledge. We also need the ability to practically adapt this knowledge to the respective requirements", explains Kidritsch.
Project DIRENE – Development of Competencies and Skills for a New Era of Person-Centred and Remotely Controlled Digital Rehabilitation
The project received EU funding within the framework of the Erasmus+ programme. Partner institutions in the project were the JAMK University of Applied Sciences in Finland (project lead), the University of Health Sciences in Bochum (Germany), the University of West Attica (Greece), and the University of the Balearic Islands (Spain).
You want to know more? Feel free to ask!
FH-Prof.

Anita

Kidritsch

,

PT MSc
Senior Researcher Institute of Health Sciences
Department of Health Sciences
FH-Prof.

Jakob

Doppler

,

MSc
Academic Director Digital Healthcare (MA)
Department Media and Digital Technologies
Head of Center for Digital Health and Social Innovation
Department Health Sciences
FH-Prof.

Kerstin

Lampel

,

PT MSc
Academic Director Physiotherapy (BA)
Department of Health Sciences
Member of the UAS Board from 2023 to 2026