Learning How to Programme in a Playful Way
We look back onto a highly successful first semester in the new degree programme Creative Computing
Even though the first-ever semester of the bachelor degree programme Creative Computing had started in the midst of a pandemic, we can now look back onto a very successful time.
Our group of international students learned how to code in Javascript, how to realise visual ideas in graphic software, and how to use design thinking and agile management methods – all from scratch, with a large part of the studies in distance learning. The acquired knowledge was put to the test in the Creative Code Lab in January, where each student planned, designed and programmed their own little browser game in two weeks.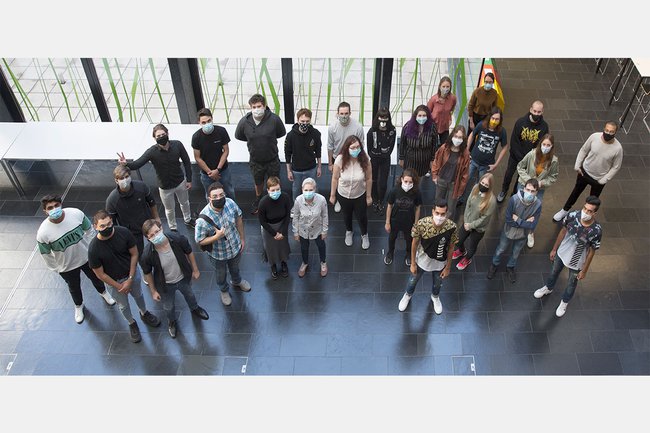 Intensive Project Phase towards the End of the Semester
Magdalena Boucher, Junior Researcher in the research group Media Computing at the IC\M/T taught the students in their first semester and provided guidance throughout the Creative Code Labs.
She reports very positive results: "I really enjoyed working with the Creative Computing students. In an open atmosphere, we would often bounce theories back and forth, which resulted in some interesting discussions about, for instance, empathy when playing the Portal video game series. It was also a delight to review the digital art portfolios and see the different visual styles and game ideas."
Not only are the degree programme team and the lecturers delighted about the students' high performance and motivation. The students themselves are also very satisfied with their first Code Lab.
"In conclusion, I really enjoyed those two weeks and I am incredibly proud of what I managed to achieve in that short amount of time", says student Alexander Azer. "I think I have never felt that enthusiastic about a school or university project before. Figuring out how to solve problems, creating new things, and actually building an entire game from ground up was fun and interesting every second I spent on it. Witnessing my idea, concept and design come to life was just amazing. A few weeks ago, I never would have imagined that I would be able to programme something like this."
Creative Code Lab 1: The Results
The two-week lab on the topic of Games and Playful Front Ends yielded numerous creative and entertaining projects. Markus Seidl, Academic Director of the bachelor degree programme Creative Computing, is satisfied: "I was and am still impressed by the projects made by the students and enjoyed the constructive and positive work atmosphere during the Creative Code Lab."
Help, for example, Lipp the Fox break into Farmer McRobinson's chicken coop without stepping on poo on his way. Or try yourself in the role of Tom on his mission to hoard as much toilet paper from the supermarket as possible during a pandemic of unprecedented scale. You can also go into space and fight for your life against hostile drones or be Kiki and venture on a dangerous journey back to your home planet.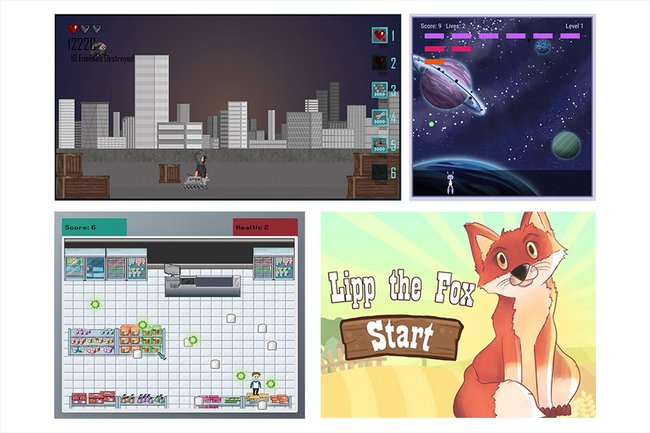 Copyright: Sophia Gruber, Alexander Azer, Lena Zyadeh, Martin Steiner
Whatever your preferences are, we wish you much fun with our first-semester students' games.
After the Lab is Before the Lab
The second semester has already started and our students are moving from client-only programming to the server side, creating full web experiences accessible to everyone and working towards the second Creative Code Lab with the theme "Connected World".
We wish all our students a successful second semester.
Links and Dates
You are interested in studying with us?
• Come to our next info.event on 22 April 2021!
• Obtain information about the study contents on the degree programme's website.
• The application deadline for the upcoming winter semester is 28 April 2021.