Creative Media Summer School 2023
High-quality continuing education for students on current topics in the field of media technology and creative industries
With a Closing Event this Friday, the Creative Media Summer School 2023 – a long-established format – comes to a worthy end. We look back on a busy and educational week in which students of the technical study programmes of the Department of Media & Digital Technologies were able to acquire knowledge and skills, guided by experts from technology, art, and research and deepen their existing competences.
International speakers shared their expertise in media and digital technologies and students immersed themselves in workshops and discussions in different areas, including augmented comics, commercial photography, data visualisation, token creation, and colour grading.
One Week of Creativity, Art & Technology
At the Creative Media Summer School, around 80 participants could choose from a total of seven different workshops held by and with international experts from the field of media technologies. The Creative Summer School thus offered students the opportunity to acquire basic specialist knowledge and put it into practice or to deepen their knowledge in a specialist field.
Here you find the details on the offered workshops.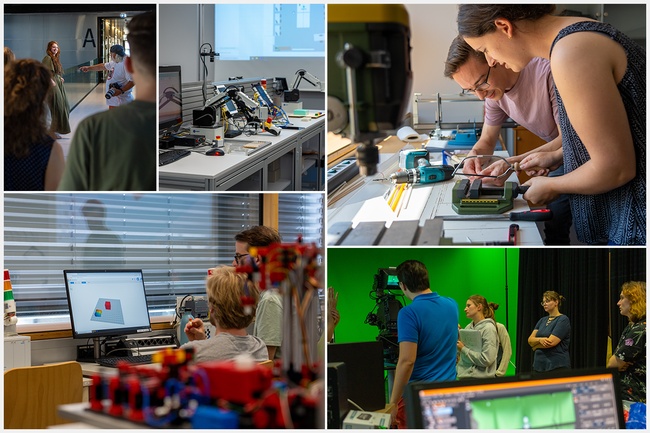 "For many years now, we have been striving to ensure that both the creative process and the technical implementation with digital technologies are seen as two sides of the same coin. Every year, the Creative Media Summer School gives students the opportunity to experience this first hand in their workshops", says Franz Fidler, Head of the Department of Media & Digital Technologies.
Visual Digitalisation & Arts
In cooperation with WTZ Ost and the OI Hub for Creative Industries & Digital Media, the St. Pölten UAS and the FH Campus Wien hosted a panel discussion on "Visual Digitalisation & Arts". Experts analysed and discussed the possibilities arising from the fusion of the fields of mathematics, computer science, natural sciences, technology, and arts (STEAM for Science, Technology, Engineering, the Arts, Mathematics) as well as from the convergence of visual digitalisation and art.
On the podium from the St. Pölten UAS: Franz Fidler, Academic Director of the study programmes Digital Design, Interactive Technologies, and Digital Media Production. "In order to bring science, technology, engineering, and mathematics together with art and creativity, we need one thing first and foremost – open-mindedness. At the summer school, all participants can experience this hands-on", he says.
Innovation Café – Creative (Industries) & Digital Media
Another highlight of this week was the "Innovation Café – Creative (Industries) & Digital Media", a matchmaking event in cooperation with WTZ Ost & Digital Makers Hub, which brings together researchers and companies to discuss current research results and their relevance in an economic context.
Future Tech Bootcamp
In parallel with the Creative Media Summer School, the Future Tech Bootcamp took place once again. At this special event format, industrial companies presented current technical challenges and worked together with Makers – freelance developers, hobbyists, students, start-ups, and SMEs – to develop initial solutions within 4 days.
You want to know more? Feel free to ask!
FH-Prof. Dipl.-Ing. Dr. Franz Fidler
Head of Department
Academic Director Digital Design (MA)
Academic Director Digital Media Production (MA)
Academic Director Interactive Technologies (MA)
Course Leader Digital Future Management (certif.)
Department of Media and Digital Technologies
Member of the UAS Board from 2023 to 2026