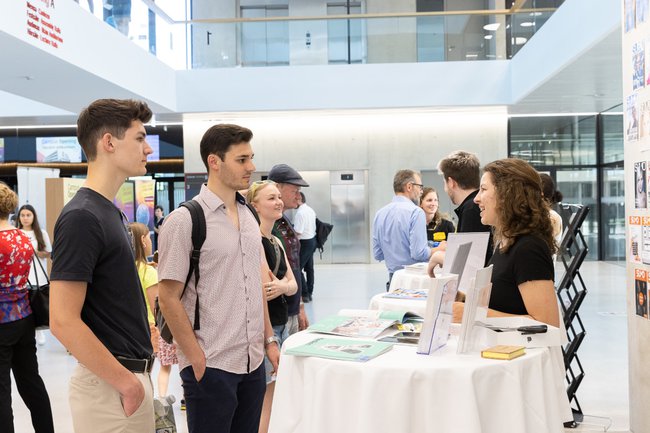 Under the motto "Life is Science in a Digital World", researchers will present their projects at the St. Pölten University of Applied Sciences within the framework of the European Researchers' Night on 30 September.
A varied programme awaits the visitors who are encouraged to participate and take a peek behind the scenes of research departments through many stations, workshops, and presentations – all of them free of charge.
On 30 September 2022, the St. Pölten UAS will organise the event in St. Pölten and Graz together with the Austrian Centre of Industrial Biotechnology (acib). Just like in past years, the two institutions are planning a colourful programme for people of all ages and backgrounds.
Knowledge for Prospective Young Researchers
"The European Researchers' Night has long been a fixture of our activities in the context of knowledge transfer and making research transparent for the general population. I am very glad that we – together with our partner acib in Graz – were chosen to help shape this European celebration of research this year. Including a business reception and a start-up forum, this also gives us the opportunity to create a platform for exchange with companies and entrepreneurs", says Hannes Raffaseder, Chief Research and Innovation Officer of the St. Pölten UAS.
"The European Researchers' Night is one of the biggest research events in Europe and attracts thousands of visitors looking to experience research up close every year. It gives us great pleasure to organise 'Life is Science' in close collaboration with the St. Pölten UAS, not least because we get to promote the STEM disciplines and inspire children in particular to become the young researchers of tomorrow. To achieve this, a special focus is on making our programme interactive, playful, and informative through workshops, discussions, and experiments as well as live acts, and much more", explains acib event organiser Katrin Weinhandl.
Hands-on Workshops, Labs, Presentations
There will be numerous interactive stations and several presentations, the St. Pölten UAS' labs will be open for the guests to give them a try, and staff members will give tours of the campus.
The lectures will cover the following topics:
"Was macht Bioplastik überhaupt so bio'" (What is it that makes bioplastics 'bio'): Anita Emmerstorfer-Augustin (acib)
"Besser gemeinsam entscheiden!" (Taking better decisions together): Michaela Moser (St. Pölten UAS)
"Von Mathematischen Modellen. Oder: Der Versuch die Welt zu verstehen" (About mathematical models. Or: An attempt to understand the world): Niki Popper (TU Wien)
"Bildung und Naturwissenschaften" (Education and natural sciences): Renée Schroeder (formerly University of Vienna)
"Was zählt? Minderheitenschutz in der Datenverarbeitung" (What counts? Protection of minorities in data processing): Katta Spiel (TU Wien)
Gender & Diversity Award of the St. Pölten UAS
On this occasion, the St. Pölten UAS will also give away its Gender & Diversity Award for the first time – a distinction to honour scientific final theses with reference to gender & diversity topics by St. Pölten UAS students and graduates.
Evening Programme
In the evening, visitors can test their knowledge in the Science Pub Quiz and Fritz Treiber from the University of Graz will discuss the Middle Ages with medievalist Johannes Giessauf based on selected film clips in "Science & Cinema: Mongolen, Mönche, Minnesang" (Mongols, Monks, Minnesang).
School Workshops
As part of the European Researchers' Night, school classes can visit workshops in St. Pölten and Graz. This programme will still by offered after 30 September.
Forschungsfest NÖ
30 September 2022 is also the date of the Forschungsfest Niederösterreich, an event for the entire family held at the Palais NÖ. Once more, researchers of the St. Pölten UAS will present their fascinating work there. Interested persons can ask scientists questions, marvel at exciting experiments, and try out new things themselves. A varied programme including show acts, science slams, and puzzle rallies will provide ample entertainment.
European Researchers' Night
The European Researchers' Night takes place annually across Europe in many locations at once and invites people to get a taste of the everyday work of researchers.
You want to know more? Feel free to ask!
Dipl.-Ing. Dr. Lisa Recnik
Science Communication International Projects
Research and Knowledge Transfer
Mag. Eva Stefan
Event Manager
Marketing and Communications
Mag. Mark Hammer
Section Head Press
Marketing and Communications