Excellent Research in Lower Austria
New Research Funding Association — St. Pölten UAS as a Successful and Research-Oriented Institution
The province of Lower Austria revises its allocation scheme for funding from the FTI strategy (research, technology, innovation), which will be allocated through competitive funding calls in future. The existing NÖ Forschungs- und Bildungsges.m.b.H. (NFB) will be restructured to become a new association for research funding. Governor of Lower Austria Johanna Mikl-Leitner presented the new association today. On this occasion, the province of Lower Austria also presented its call for the programme of 2021.
Significant Support for the Focus Area Digital Health at the St. Pölten UAS
Several Lower Austrian researchers attended the presentation to speak of their NFB projects and their research. One of them was Brian Horsak of the St. Pölten UAS. Shortly after graduating, Horsak started his career at the St. Pölten UAS as a young researcher 11 years ago. Since then, he has developed the research focus motor rehabilitation by conducting a number of projects.
Among other things, he significantly contributed to the establishment of the Center for Digital Health Innovation (CDHI) in 2016, the development of the degree programme Digital Healthcare and the launch of a Digital Health Lab. The most recent project is an endowed professorship for applied biomechanics in rehabilitation research. The professorship, which was initiated by Brian Horsak, is currently established.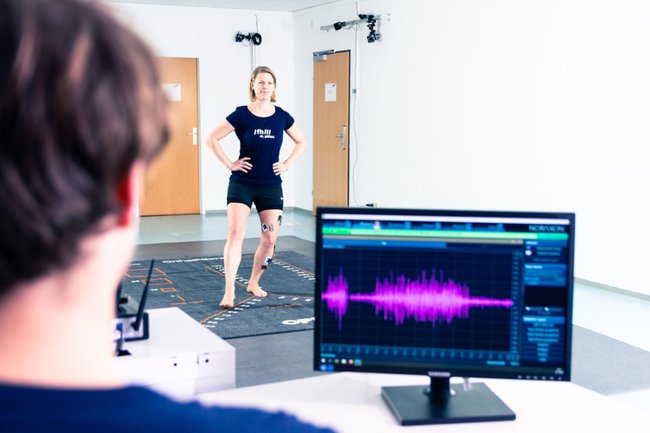 "Brian Horsak has successfully submitted many projects to the NFB. For several years now, the St. Pölten UAS has been working to build the CDHI -- Center for Digital Health and Social Innovation. The funding by the Niederösterreichische Forschungs- und Bildungsgesellschaft (Lower Austrian Association for Research and Education) substantially contributes to strengthening this future-oriented interdisciplinary focus area and enables us to expand our work at both the national and international levels", says Hannes Raffaseder, Chief Research and Innovation Officer at the St. Pölten UAS.
Many other researchers of the St. Pölten UAS from all departments have also successfully participated in NFB calls within recent years.
In the following, Brian Horsak answers three questions on his research:
What is your opinion on competitive funding strategies and calls as common funding instruments in the community?
In addition to the equal opportunities of all researchers in Lower Austria when it comes to the allocation of funding, competitive funding strategies are an important instrument, particularly for the advancement of young researchers. Research funding, both at the national and the international levels, is usually highly competitive, just like publishing in renowned specialist journals. The papers are always peer-reviewed by external, independent reviewers. Often, this is also a highly critical process and it is not uncommon that researchers have to delete or rethink parts of their work after receiving feedback.
I believe that learning how to face such setbacks and focusing on opportunities rather than failures are important competencies, which eventually make a researcher successful. The reorganised funding structure in the province of Lower Austria will support both junior researchers and already established researchers to develop competitive skills to successfully apply for national and, above all, international sources of funding by the EU.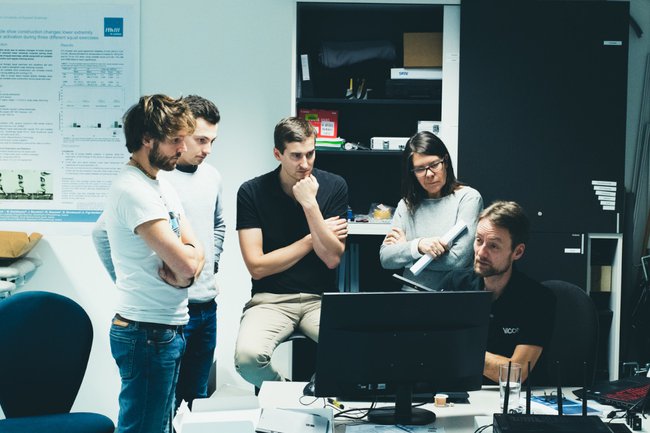 Brian Horsak and the Gait analysis team at St. Pölten UAS, Credit: Florian Kibler
Which opportunities opened up for you when you received funding from NFB calls?
If researchers want to establish themselves in a particular subject field, they need the opportunity to continually work on their research topic over a longer period of time — ideally for several years, and this is particularly true for junior researchers. Only then, can researchers achieve the necessary in-depth knowledge of their subject area and thereby apply their research to serve our society.
This is exactly the chance that I was given when I participated in the Life Sciences Calls of the last years. Without this source of funding, it is very likely that I could have sustainably established my research at the interface of biomechanics, rehabilitation and digitalisation only with great difficulty — if at all. But today, thanks to receiving funding, we are able to conduct research on gait analysis and rehabilitation that is highly relevant for the daily routine in the medical world. This makes me enormously grateful and very proud.
How would you describe your research?
Research is my professional passion. It has always been my objective to do something for the greater good. I want to use my creativity, my visionary thinking and my professional expertise to exploit innovations in digitalisation as a solution to problems in the healthcare sector.
My current work aims at combining machine learning (coll. "artificial intelligence"), Virtual Reality technologies and modern movement analysis techniques (e.g. motion capturing) to support clinical practice and medical decision-making in prevention and rehabilitation after (neuro)orthopaedic diseases, injuries or surgeries.
You want to know more? Feel free to ask!
FH-Prof. Priv.-Doz. Dr. Brian Horsak
Head of Center for Digital Health and Social Innovation
Senior Researcher Institute of Health Sciences
Department of Health Sciences
FH-Prof. Dipl.-Ing. Hannes Raffaseder
Chief Research and Innovation Officer (CRO and CINO)
Mag. Gabriele Permoser
Head of Service Unit
Research and Knowledge Transfer