Family-Friendly University of Applied Sciences
A ranking of the magazine freundin.de has recognized us as a family-friendly company.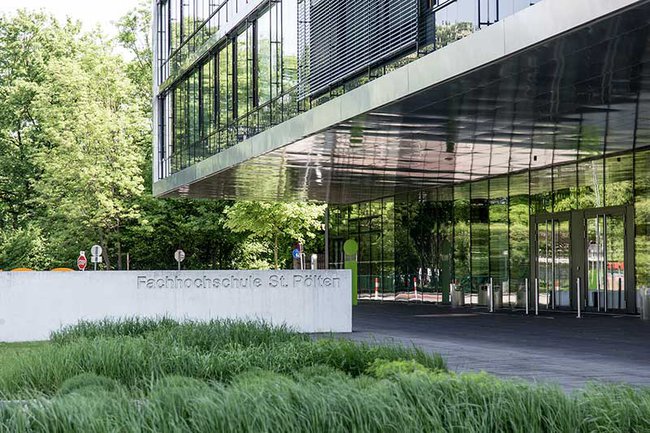 The magazine "Freundin" and the employer evaluation portal kununu have awarded the seal "The Most Family-Friendly Employers" for the fifth time. This is the first year that the magazine has also awarded Austrian companies. The St. Pölten​ University of Applied Sciences took second place in the category "Education, University, UAS and Schools".
In total, the study included more than 2 million evaluations from employees of 200,000 companies in Germany and Austria, which provided the basis for the ranking. This year, 400 companies in Germany and Austria were awarded for being particularly family-friendly.
Current and former employees of all work groups, industries and career levels rated not only working atmosphere, work-life balance, salary and equality, but also family-friendly offers such as flexible working hours, childcare and company pension schemes. Further assessment criteria were supervisor behaviour, career/further training and salary/corporate benefits.
Initiatives at the St. Pölten UAS
"Finding and retaining qualified and committed employees and giving them perspectives is currently a major challenge for all universities. We are very pleased to receive this further award, after having already been honoured as the most employer-friendly university in Austria in March this year. Initiatives such as 'Best Place to Work' as part of the UAS strategy, the employer branding project, the new staff regulations with various benefits such as flexible working hours and a company pension and health scheme, participation in the European Human Resources Strategy for Researchers (HRS4R) for good working conditions for researchers, and our handling of the COVID-19 pandemic certainly contributed to us winning the awards," says CEO Gernot Kohl.
Excellent Employer
With more than 3,400 students and about 350 full-time employees, the St. Pölten UAS is a major player in the local university landscape and one of the most important employers in the region. For many years, the St. Pölten UAS has been implementing numerous measures to continuously improve the working environment and ensure the best possible working conditions for employees.
In spring, this year's employer ranking of the magazine "Trend" awarded the St. Pölten UAS as the best employer in the education and research sector. The UAS ​was in 10th place in the ranking of more than 300 companies.
You want to know more? Feel free to ask!
Sandra Weidinger
Personnel Assistant
Human Resources and Legal Affairs