How Can SMEs Benefit from ChatGPT?
St. Pölten UAS Hosts "Zukunftsheuriger" on the Topic of ChatGPT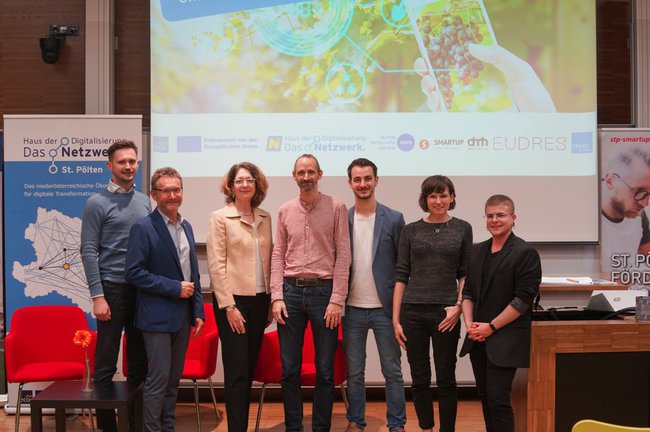 The latest edition of the event series "Zukunftsheuriger" organised by the St. Pölten University of Applied Sciences as the hub of the Lower Austrian Haus der Digitalisierung and ecoplus Digital GmbH was dedicated to the potentials and applications of ChatGPT for small and medium-sized enterprises.
Experts offered interesting insights into the topic for small and medium-sized enterprises.
Matthias Zeppelzauer, head of the research group Media Computing at the St. Pölten UAS, and two research assistants of the same group, Jaqueline Böck und Andreas Babic talked about ChatGPT in theory and practice.
Johann Baldinger, innovation advisor of the Upper Austrian Chamber of Commerce (WKO), explained how SMEs can optimise their processes using the technology.
UAS graduate Anna Kofler from the startup dryven held a keynote on "From Zero to AI Hero: ChatGPT Dos & Don'ts for Companies".
"It is events such as this one that turn the Haus der Digitalisierung in Lower Austria into a living project and provide companies with valuable inputs from research. Enterprises gain insights into the latest technological developments and these event formats provide them with a platform for exchanging their own experiences", says Irene Auffret from the St. Pölten UAS service unit Research and Knowledge Transfer who also serves as the hub manager for the Haus der Digitalisierung in St. Pölten.
Potentials, Ethical Issues, Data Privacy
"Large-scale language models or dialogue systems such as ChatGPT offer strong potentials for the support and partial automation of business processes. Many people are currently asking themselves how they can put ChatGPT to the best possible use. Much less popular is the question: Should we use it at all? And if we do, under what conditions? Numerous ethical issues and questions pertaining to privacy and data protection are compelling reasons against the technology – which makes it extremely important to develop alternative models that comply with and have learnt European data privacy and value standards, and can be operated locally. Current developments in this direction point out interesting options for the future", says Zeppelzauer.
"With our initiative 'KI-Anwendungen für die Praxis' (AI applications for practice), we at the Austrian Chambers of Commerce want to encourage one-person businesses and SMEs in particular to venture into the world of artificial intelligence. By using AI technologies such as ChatGPT, companies can improve their customer service, generate forecast models, carry out personalised marketing campaigns, or automate internal processes – and the latter has a particularly positive impact on competitiveness. Three factors are important when it comes to reasonable digitalisation and the use of AI tools: saving costs, increasing efficiency, and improving quality", explains Baldinger.
"The application of ChatGPT in everyday working life results in a significant increase in efficiency: routine tasks are automated and writer's blocks remedied so that staff have more time to invest in more qualified and value-creating activities. To achieve the best possible results, however, it is vital to observe some aspects such as correct input, intended purpose, and critical review of the generated information. By combining technological innovation and critical thinking, businesses can make the best use of ChatGPT's advantages", adds Kofler.
In the final panel discussion with Matthias Zeppelzauer, Johann Baldinger, and Mateo Primorac from scopri.AI, company representatives had the opportunity to discuss concrete questions. The event was concluded with a networking session.
Connecting Research and Enterprises in Lower Austria
"Artificial intelligence will be the big gamechanger in all areas of life these next few years. The Haus der Digitalisierung and its network partners actively bring together important innovation partners and develop projects with SMEs. The network meetings / 'Zukunftsheurige' are an essential tool in this endeavour", says Peter Brandstetter, Digitalisation Manager of ecoplus Digital.
The Zukunftsheuriger is organised by the St. Pölten UAS as the hub of the Haus der Digitalisierung with the support of Austria Wirtschaftsservice AWS, SmartUp, Digital Makers Hub, and the European University alliance E³UDRES².
You want to know more? Feel free to ask!
Mag.

Irene

Auffret
Section Head Entrepreneurial University und Innovation
Research and Knowledge Transfer