How Cars Learn to Drive Autonomously
AWS DeepRacer Challenge at the St. Pölten UAS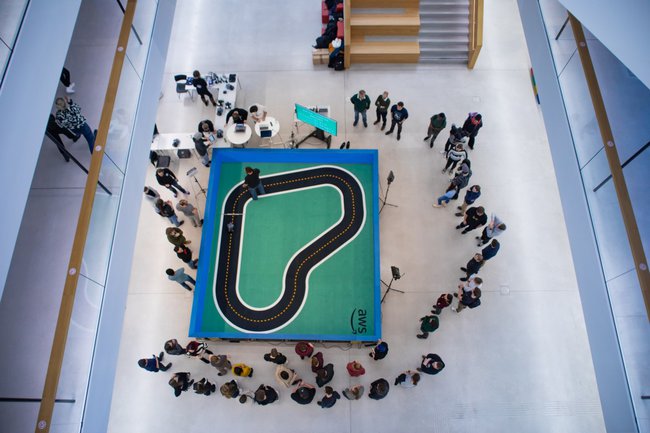 Interested students recently had the opportunity to try out machine learning at the St. Pölten University of Applied Sciences:
Students were able to participate in the DeepRacer Challenge presented by Amazon Web Services (AWS) and the St. Pölten UAS with a fully autonomous race car on a scale of 1:18. The goal was to programme the cars in such a way that they would reach the finish line both fast and safely.
Independently Learning Complex Behaviour
AWS DeepRacer is an interesting and entertaining opportunity for students to try their hand at a subarea of machine learning referred to as "reinforcement learning". This means that the cars autonomously learn very complex behaviours. The challenge is to give them the right rewards during the training – similar to training an animal.
In the cross-departmental elective and optional subject, almost 40 students first learnt the theory before practising it in a 3D simulation of the race circuit under realistic conditions. During the final event at the St. Pölten UAS, the best AI models (artificial intelligence) were transferred to the real model cars. Those with the best lap time on the circuit of several metres won the race. Exclusive "DeepRacer" hoodies were the prizes.
Didactic Concept
"Reinforcement learning is one of the latest machine learning concepts. We humans also learn through trial and error, and these cars are similar: they try out driving with different steering movements and speeds. The students programme a function that tells the car how well it is currently doing. In the simplest case: If all four wheels are on the ground, that's good. If the car leaves the road, that's not good. However, this alone is not enough to win the race", explains UAS Lecturer Andreas Jakl, organiser of the event.
"The race is a fantastic concept from a didactic point of view as it makes the often abstract processes of machine learning tangible. The theoretical basics can be directly applied to a highly relevant topic: autonomously driven cars. It is great to see how your own code makes a real model car move. At the same time, it is a great first entry into the practical application of the AWS cloud", says UAS Lecturer and co-organiser Christoph Lang-Muhr.
In the lecture, AWS gave insider tips and tricks for the ideal training of the machine learning models. In addition, the AWS team from Vienna provided the model cars and made sure that the race was going smoothly.
Students of Digital Healthcare, Media Technology, Digital Design, Digital Media Production, Interactive Technologies, Creative Computing and Smart Engineering were eligible to participate.
The winners:
Jan Vrablicz (Master Data Intelligence)
Florian Voglauer (Master Data Intelligence)
Andreas Falb (Bachelor Information Security)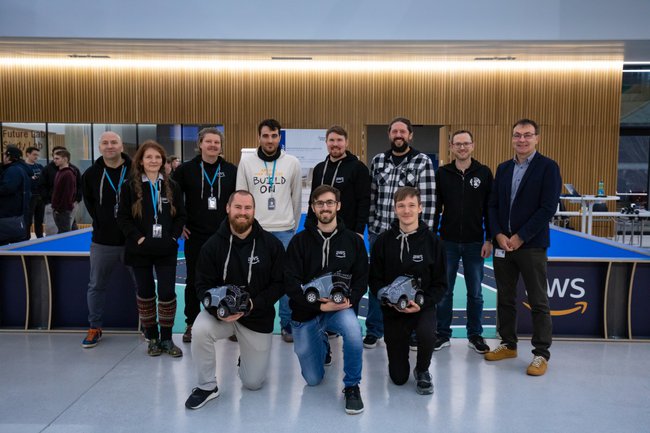 The winners with the team from AWS and St. Pölten UAS with UAS CEO Johann Haag.
You want to know more? Feel free to ask!
FH-Prof.

Andreas

Jakl

,

MSc
Lecturer
Department of Media and Digital Technologies
FH-Prof. Dipl.-Ing. Dipl.-Ing.

Christoph

Lang-Muhr

,

BSc
Academic Director Information Security (MA)
Department of Computer Science and Security
Mag.

Mark

Hammer
Section Head Press
Marketing and Communications