New Academic Year Begins at Campus St. Pölten
Strong Application Numbers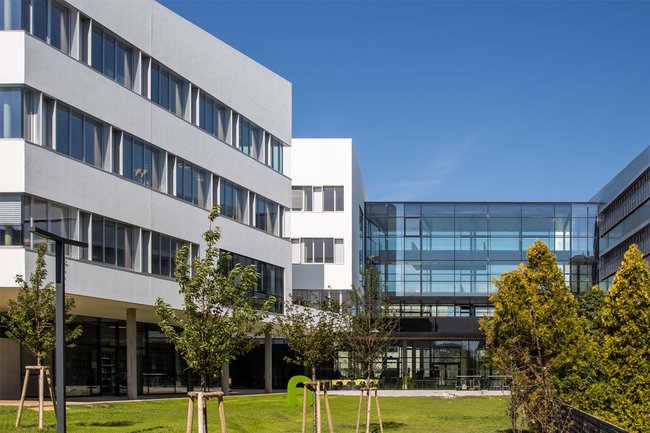 With the completion of the new Campus St. Pölten, the St. Pölten University of Applied Sciences starts a new chapter in its 25-year history. The original building and the new one have merged to form a campus with cutting-edge infrastructure that offers students, lecturers and staff members the best possible framework conditions. The UAS is also pleased that the numbers of prospective students and applicants for its degree programmes are very high once more.
The number of people interested in studying at the St. Pölten UAS is once again high this year with more than 4,000 applicants for the approximately 1,200 first-year study places. In the past application period, over 14,000 persons expressed an interest in studying at the UAS (by requesting information material, seeking advice, or visiting an information event). "Our high quality of teaching and the many digital information opportunities we have created over the past one and a half years make our institution appealing to prospective students who are keen on studying in St. Pölten", says Gernot Kohl, Executive Director of the St. Pölten UAS.
Best Possible Framework Conditions
Students, teachers and staff are already enjoying the modern infrastructure of the new Campus St. Pölten with highly modern teaching and learning rooms, innovative labs and future-oriented workspaces. "With the new campus, we have taken an important step in the further development of our university and provide the best possible framework conditions for studying and research. We cultivate close ties with stakeholders and companies and make a deliberate effort to strengthen the innovative potential of the region", explains Kohl.
In a bid to guarantee the highest possible degree of safety for students and teachers in the new semester, the St. Pölten UAS relies on a hybrid mode containing attendance and online elements and on strict monitoring of compliance with the 3G rules.
New Programmes from Autumn 2021
With the launch of the new master degree programme Data Intelligence, the St. Pölten UAS gives students the opportunity to specialise in the smart use of data and suitable ways of handing artificial intelligence. In the health sciences sector, the UAS reacted to the demand for well-trained nurses by increasing the number of study places in the bachelor degree programme Healthcare and NursingPLUS. In addition, the programme now starts twice a year, thus offering flexible entry opportunities in September and February. When it comes to media, the new master-degree further education programme Digital Photography & New Visual Media will start next spring. It is aimed at graduates who completed certified trainings of several years with a focus on photography as well as qualified photographers looking to dive into professional photography, digital media and photo theories within the framework of their professional activity.
Further information can be found at weiterbildung.fhstp.ac.at.