Institute of Creative\Media/Technologies: New Head
Sibylle Moser has been heading the Institute of Creative\Media/Technologies together with Thomas Moser since the beginning of October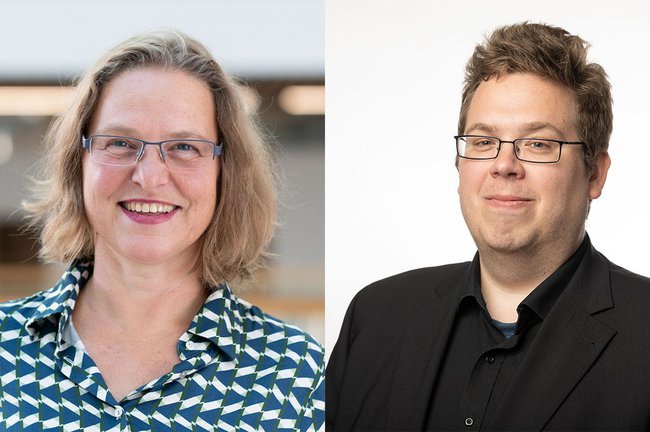 As of October, the St. Pölten UAS' Institute of Creative\Media/Technologies has a new leadership team: Sibylle Moser is newly responsible for the institute in collaboration with the previous head Thomas Moser. After many years in his position as the second head of institute, Wolfgang Aigner takes over new functions at the Department of Media and Digital Technologies.
Extensive Experience and High Expertise in Science and Practice
Before joining the UAS as co-head of the Institute of Creative\Media/Technologies (ICMT) together with Thomas Moser, Sibylle Moser was a professor of media studies and culture management at the Kufstein University of Applied Sciences and served as CEO of the community radio Radio Orange 94.0. Moreover, she was a Senior Fellow of the "McLuhan Program in Culture and Technology" at the University of Toronto within the framework of an APART programme by the Austrian Academy of Sciences and a lecturer at the universities in Innsbruck, Vienna, and Toronto.
"Sibylle Moser is an inspiring personality with extensive experience and high expertise in science and practice. Her appointment provides additional impulses for the Institute of Creative\Media/Technologies as well as the Department of Media and Digital Technologies and constitutes an important cornerstone for the continuation of the institute's success story which has developed from a small organisational unit (even by in-house standards) to the probably biggest research institute in the Austrian UAS sector. I would like to cordially welcome Sibylle Moser and wish her nothing but success in her new position", says UAS CEO Hannes Raffaseder.
"We are very happy to have won such as experienced media expert for our institute and wish her all the best for her activity at the St. Pölten UAS", adds Thomas Moser.
Wolfgang Aigner, who played a major role in shaping the institute as head and co-head, will concentrate on his role as part of the management team of the Department of Media and Digital Technologies in future where his main focus will be on academic quality standards in research, teaching, and knowledge transfer. He will also continue to be responsible for the research area "Data Vizualisation" at the ICMT.
Media and Technology Combined
The Institute of Creative\Media/Technologies conducts interdisciplinary and human-centred research on media and interactive technologies.
"Our institute connects technological research focuses and a media focus in a unique way, thus positioning itself at the interface of media informatics, media design, the media and culture industry, and media art", says Sibylle Moser.
"We use media technologies to promote people's cultural participation and inclusion and we explore how media can change our society for the better through user-centred technological designs", explains Thomas Moser.
The research institute is made up of four research groups with currently about 60 staff members: Digital Technologies, Media Business, Media Computing, and Media Creation. Furthermore, the ICMT organises, e.g., the "E.I.N.S. Open Innovation Hub for Creative Industries & Digital Media" within the framework of the European University network E3UDRES2 which is coordinated by the St. Pölten UAS.
You want to know more? Feel free to ask!
FH-Prof.in Mag.a Dr.in

Sibylle

Moser
Head of Research Institute
Institute of Creative\Media/Technologies
Department of Media and Digital Technologies
FH-Prof. Dr.

Thomas

Moser
Head of Research Institute
Institute of Creative\Media/Technologies
Deputy Academic Director Smart Engineering (BA)
Senior Researcher Industry 4.0 Smart Engineering (BA)
Department of Media and Digital Technologies