On-Site Teaching to Be Resumed
St. Pölten UAS Starts Combination of Online and On-Site Teaching in Autumn 2020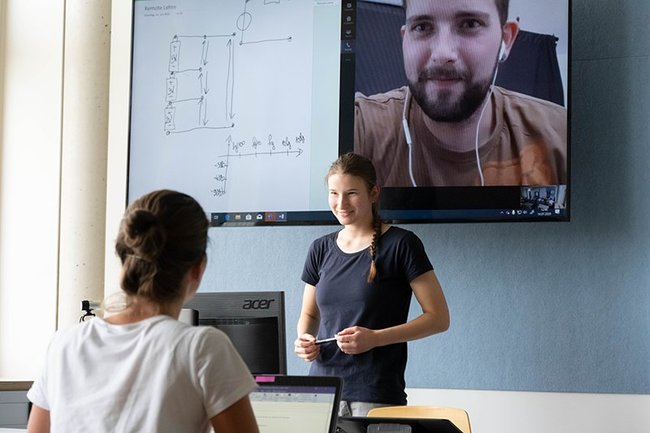 For the new study year, the St. Pölten UAS is planning high-quality hybrid teaching operations with the best possible combination of remote learning and on-site teaching. In this context, a special focus is on supporting the lecturers in this endeavour, both in terms of technology and at the didactic level.
Majority of Students Completes Semester as Planned
After all teaching operations were switched to remote learning in mid-March, the St. Pölten UAS is now taking the first steps towards "hybrid operations". This means that e-learning and on-site teaching will go hand in hand. A special handover room was installed in order to facilitate the contactless handover of things like books from the UAS library. Selected lab exercises have already been held in small groups under controlled conditions and in compliance with the appropriate hygiene measures and safety distances. Since June, certain examinations have been held at the UAS as well and the majority of students have been able to complete the semester according to plan.
Practical Exercises in Labs and Studios
Starting from September, face-to-face teaching will increasingly take place at the St. Pölten UAS once again. "It is important to us to enable on-site teaching especially for course involving the transfer of application expertise – this means our labs and studios in particular as students work in a very practice-oriented manner there", explains Johann Haag, Chief Operation Officer of the St. Pölten UAS. "However, safety is still our top priority, so we make sure that the minimum safety distance is kept at all times." Traditional lectures, on the other hand, will still be held mainly online.
Coaching and Cutting-Edge Technology
The support of lecturers is of particular significance in this context. Firstly, special "remote teaching rooms" equipped with state-of-the-art media technology infrastructure promoting interactive teaching have been made available for lecturers. Moreover, the St. Pölten UAS offers relevant in-house further trainings and coachings in order to assist the teaching staff in this new setting in the best possible way. "We are developing individual further training formats for our lecturers that are tailored to their respective knowledge level and offer the ideal support for this new form of teaching. In addition, the lecturers benefit from individual support in the development of new, integrated teaching concepts for online and on-site courses", emphasises Alois Frotschnig, Chairperson of the UAS Board.
 "We are well-prepared for the autumn and glad to be able to use our wonderfully equipped rooms for teaching once again. The measures we have taken will ensure that we remain 'fit for the crisis' in future", says Johann Haag.
You want to know more? Feel free to ask!
FH-Prof. Dipl.-Ing.

Johann

Haag
Chief Operation Officer (COO)