St. Pölten UAS Releases Album
Jury Chooses 10 Best Songs by Students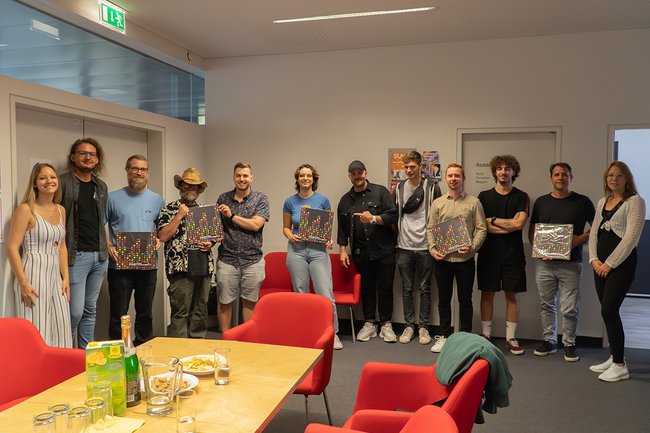 Making music by students visible and audible: 49 students have submitted self-produced songs – 10 have made it onto the FHSTP sampler. The album will be available on all major music platforms and in a limited vinyl edition.
From bands to solo singers, from hard rock to electro and pop – the diversity of music and performers on the new album by the St. Pölten UAS is extensive. "We are particularly pleased that students from various disciplines have been involved. In addition to songs from media study programmes, students from the fields of computer science, security, and social sciences have submitted tracks", says Peter Hackl-Lehner, lecturer and research assistant at the St. Pölten UAS.
All songs were recorded, edited, and produced by students of the St. Pölten UAS as part of a course or an optional subject, either in the facilities of the St. Pölten UAS or using its equipment. A five-member jury consisting of Andreas Büchele (UAS lecturer & sound engineer), Benedikt Dengler (external lecturer and music producer), Heinrich Deisl (editor for Ö1 and the Campus and City Radio St. Pölten), Robert Trömer (digital marketing at the St. Pölten UAS) selected the top 10 tracks from the nearly 50 submissions.
"We are very pleased with the selection and enthusiastic about the high quality of the submitted productions", emphasises Hackl-Lehner who was also part of the jury.
FHSTP Sampler – The Album of the St. Pölten UAS
The release provides students with the opportunity to gain access to their own "Spotify for Artists" or "Apple Music for Artists" account. In addition, their music will be played on the radio.
"Releasing the song and having a public performance are the two requirements for an AKM registration. Therefore, the sampler offers students a great opportunity to make their own music accessible to a broader audience", says Andreas Büchele, sound engineer and lecturer at the St. Pölten UAS.
Streaming UAS Songs
The songs are available on all popular streaming platforms.
Here is a selection of platforms with a link to the album:
 The vinyl album is also available in the UAS library.
Studying Media at the St. Pölten UAS
About a third of the nearly 4000 students are trained for various professional fields in the media and communications industry in one of the 14 bachelor, master, and continuing education programmes. Campus media, special laboratories, and a media technology rental with around 5000 high-quality devices offer the best teaching and learning opportunities.
You want to know more? Feel free to ask!
Dipl.-Ing.

Peter

Hackl-Lehner

,

BSc
Teaching and Research Assistant
Lab Services
Technical Head Audio
Lab Services
Department of Media and Digital Technologies
Member of the UAS Board from 2023 to 2026