Test Persons for Knee Osteoarthritis Study Wanted
Examining the Impact of Nutrition and Exercise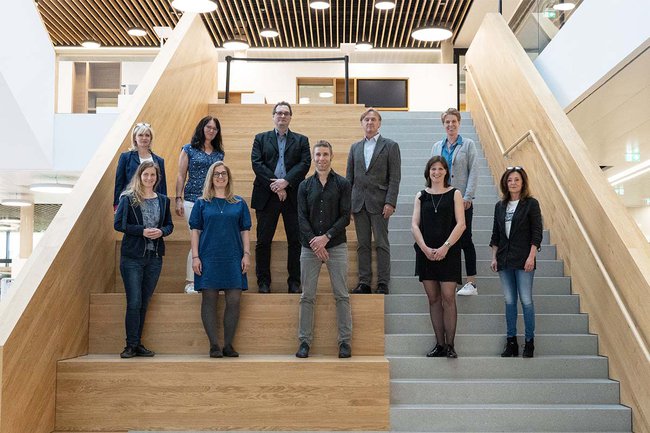 In their joint research project NUMOQUA (Nutrition and Movement to Improve Quality of Life with Knee Osteoarthritis), the St. Pölten UAS, the University of Vienna, and the University for Continuing Education Krems explore how nutrition and exercise can influence patients' well-being. The partners are currently looking for test persons for their study.
Knee osteoarthritis is a widespread condition. "Approximately 20% of the overall population suffer from osteoarthritis of the knee and the associated restrictions. Our interdisciplinary research project examines the potential impact of a combination of movement and nutrition therapy on the inflammatory processes in the knee", explain Barbara Wondrasch, UAS lecturer and head of the research project.
The research team are currently looking for test persons. Detailed information on how to apply is available here.
Contact via email: numoqua@fhstp.ac.at
Contact by telephone: +43 676 847228549
Compensation for expenses: EUR 100.00 plus a goodie bag full of healthy food
Target group: everyone suffering from osteoarthritis (diagnosed by a doctor) in one or both knee joints and aged 50 to 75
Exercise and Diet for Test Persons
60 test persons aged 50 to 75 suffering from knee osteoarthritis will be assigned either to an intervention group or a control group at random. The intervention group will undergo an exercise programme specifically developed for osteoarthritis (GLA:D®) for six weeks and special nutrition therapy for nine months, while the control group will receive the same exercise programme for six weeks and general information on a healthy lifestyle for nine months.
Funding for the project is provided by the Gesellschaft für Forschungsförderung Niederösterreich (GFF). It will cover a period of three years and run from May 2022 to April 2025.
GLA:D ® Programme
The programme "Good Life with Arthritis in Denmark" (GLA:D®) was introduced in Denmark in 2013 with the objective of implementing international best practice guidelines. It summarises the international scientific community's latest findings about osteoarthritis and – in case of adiposity – recommends weight reduction in addition to patient education, physiotherapy, and training.
In 2020, the GLA:D® Austria programme was launched as a collaboration between the St. Pölten University of Applied Sciences and the Physiozentrum für Weiterbildung (physio-zentrum.at).
Further information on the project can be found on our research website.
You want to know more? Feel free to ask!
FH-Prof.

Barbara

Wondrasch

,

PT PhD
Head of Research Institute
Institute of Health Sciences
Lecturer
Course Leader Applied Clinical Research in Health Sciences (MA)
Course Leader GAIT - Ganganalyse und Rehabilitation (certif.)
Course Leader GAIT - Ganganalyse und Rehabilitation (MA)
Department of Health Sciences
Member of the UAS Board from 2020 to 2023