Linking digital technologies and healthcare
The objective of this programme is to train students in the interdisciplinary design of technology-driven healthcare innovations. Students come from both healthcare and technical backgrounds, and learn about methods and technology tools for planning and developing solutions to real-world problems in the areas of prevention, diagnostics, treatment and care. The central focus is delivering practical benefits for patients, their relatives and above all health professionals.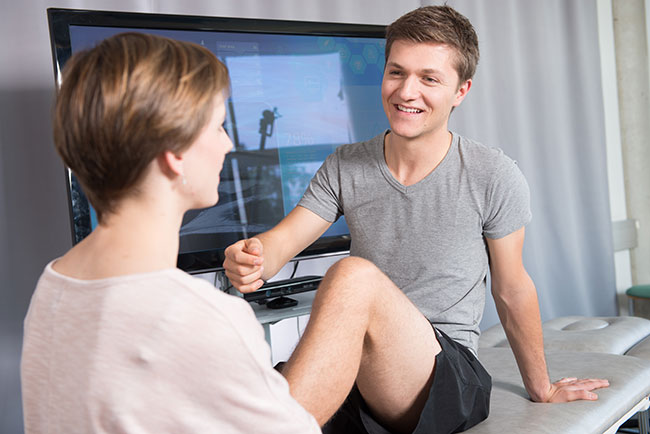 Career prospects
Graduates are experts in the interdisciplinary design, implementation, evaluation and enhancement of technology-supported healthcare processes with the aid of digital technologies. Their expertise is in demand across the entire healthcare sector, for instance at social insurance providers, hospitals, industrial facilities, research institutions and IT-focused companies.
More about career options
Flexible curriculum
Students have the freedom to build an individually tailored programme of study. This ensures that the technology experts can learn about healthcare processes, while the healthcare experts are able to get to grips with the requirements of information and communication technologies. The language of instruction is German or English, depending on the course.
Areas of special emphasis are professional skills for capturing and processing health data, the design and prototyping of healthcare interfaces and the evidence-based analysis of patient engagement and involvement. Over the course of four semesters, students work in teams on a digital-healthcare project. In the past, students have developed solutions such as mixed-reality visualisations for radiology applications and sensor-supported systems for gait rehabilitation.
Healthcare Technology Development

Teaching of technical skills for the design and specification of technical solutions for healthcare.
Healthcare Technology Assessment

Teaching of technical skills for the targeted evaluation of digital technologies and media in prevention, diagnosis, treatment, rehabilitation and care.