Linking Digital Technologies and Healthcare
Shape technical innovation within the healthcare sector! Health and technology experts together learn methods and technical tools to conceive and develop concrete solutions for digital healthcare. You chose from the following specialisations:
Health Technology Development
Health Technology Assessment
The focus is on practical benefits. That way you develop concrete solutions for prevention, diagnostics, therapy and care - e.g. mixed reality visualizations in radiology and sensor-aided soles for gait rehabilitation.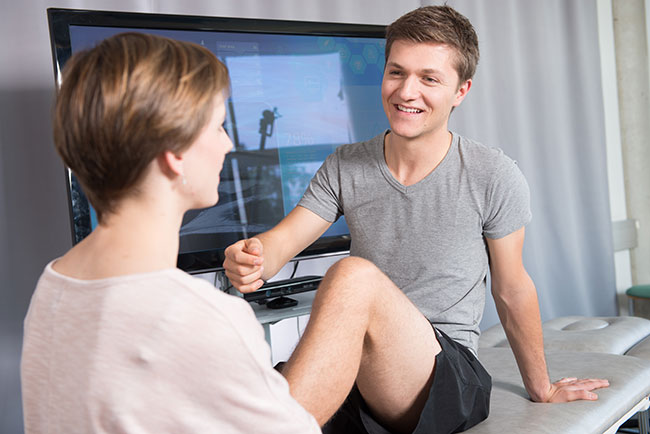 "The St. Pölten UAS allows me – a professional nurse – to make a lateral move into informatics. Thanks to the part-time structure, I can study alongside my work. This combination is still very hard to find in Germany."

Svenja Hahn

Student in the master degree programme Digital Healthcare
"The implementation of disruptive information technologies in the healthcare sector has accelerated massively. As a doctor, the study programme Digital Healthcare helps me to keep up with the transition and to stay fit for a sector undergoing major changes."

Christoph Plank

Student in the master degree programme Digital Healthcare & Resident in Internal Medicine and Cardiology
"The challenges in the healthcare sector are best met through interdisciplinary collaboration between technical specialists and healthcare professionals. The master degree programme Digital Healthcare is the embodiment of this working relationship.""

Tobias Doeringer, BSc

Student in the master degree programme Digital Healthcare
"This master degree programme has provided me with the opportunity to change careers, moving from healthcare (radiology technology) to IT healthcare."



Anna Springer, BSc, MSc

Projekt Manager and Product Owner at x-tention
"Digital healthcare is an emerging field. It will transform healthcare in the post-COVID era through the use of digital technologies."



Prof. Daniela Haluza

Public Health Expert at the Medical University of Vienna
"The integration of digitised health-related information into workflows and processes can help make the treatment of patients more effective in the long run. The massive use of digital medical data heralds a new era in evidence-based treatment and allows for healthcare models that are considerably more patient-oriented."

Mag. Beate Hartinger-Klein

Hartinger Klein Consulting GmbH
"I find the new approach in the master degree programme Digital Healthcare of supporting healthcare processes with media technology very interesting and promising."

Bernd Wisgrill

Student in the master degree programme Digital Healthcare
"Even in the rapidly growing world of physiotherapy, the technologisation in the form of digital applications is still in its infancy. The master degree programme Digital Healthcare provides inputs and possibilities for innovative ideas and their implementation – so we can speed up this development."

Philipp Gahleitner, BSc

Student in the master degree programme Digital Healthcare, freelance physiotherapist
"It is thanks to this master degree programme that I've been able to put my own ideas and visions of digitalisation in the healthcare sector into practice. In the process, I've established interesting contacts and engaged in exchange with different types of companies."

Stefanie Pirzl

Student in the master degree programme Digital Healthcare
"Digital Healthcare gives me a deeper insight into the healthcare sector and allows me to combine this with my fascination for technology. It gives me the unique opportunity to develop innovative projects together with my fellow students from the field of healthcare."

Julia Böck

Student in the master degree programme Digital Healthcare
"The master degree programme Digital Healthcare is modern and future-oriented. It merges two fields that I think belong together: healthcare and technology."

Anna-Maria Windhofer

Graduate of the master degree programme Digital Healthcare
Campus-Platz 1
St. Pölten
A-3100
Campus-Platz 1
St. Pölten
A-3100
Campus-Platz 1
St. Pölten
A-3100