Open Access at St. Pölten University of Applied Sciences
As a signatory of the Berlin Declaration on Open Access to Knowledge in the Sciences and Humanities, St. Pölten University of Applied Sciences is committed to advancing sustained Open Access to scholarly publications. To this end, St. Pölten UAS encourages and supports all its employees and researchers to make their research results freely available.
You can find the current version of our Open Access policy here: Open Access Guideline
Should you have any queries, please contact Katrin Kogler (Legal), Birgit Bauer and Barbara Spitzer (Research Funding and Contract Research) or Maja Gušavac (Library) for further information.
The following visualisation illustrates the three main routes of Open Access publishing of scientific journal articles: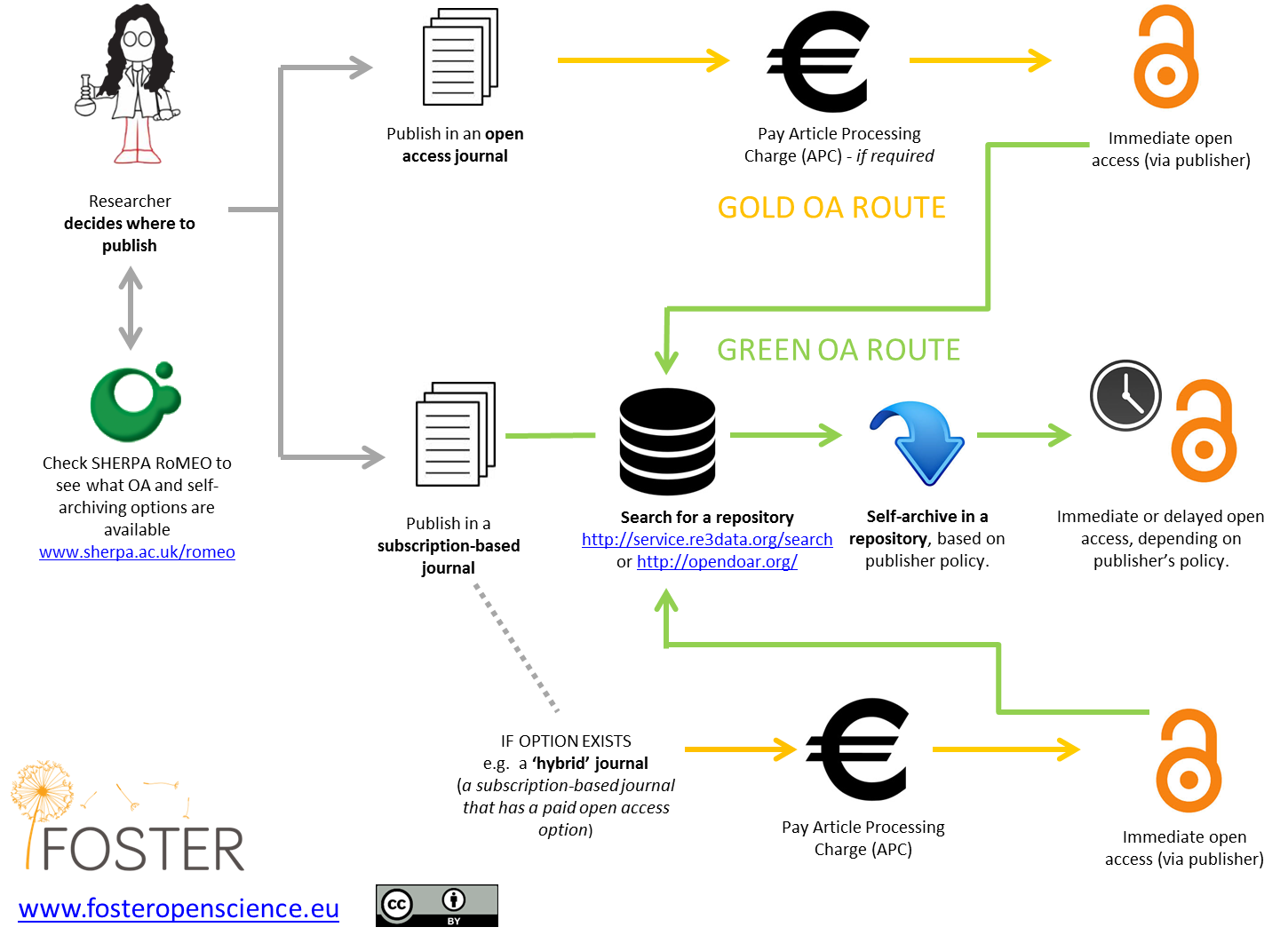 Institutional repository Phaidra
Our institutional repository Phaidra contains research output created at St. Pölten UAS, ranging from student theses to peer-reviewed publications and accompanying research data.
You can access our institutional repository Phaidra here: https://phaidra.fhstp.ac.at
Open Access Publishing Agreements at St. Pölten UAS
Since 2016/2017, the Austrian Academic Library Consortium has successfully negociated Open Access agreements with publishers Springer and Emerald, which researchers at St. Pölten UAS can directly benefit from.
Open Access publications with other publishers/journals can be arranged individually, after consultation with one's supervisor or project leader. St. Pölten UAS is currently working on developing and expanding Open Access publishing possibilities and funding.
Please direct any queries regarding further Open Access publishing options to maja.gusavac@fhstp.ac.at.
Springer Compact
All St. Pölten University of Applied Sciences employees can publish their research – on the condition that they are the corresponding author – in more than 1,600 Springer Open Access Journals for free. A list of eligible journals can be found here:
Springer journals covered by Austrian OA agreement
Emerald
Since 2017, all Austrian researchers can publish their research outputs with publisher Emerald as Open Access for free, on the condition that they choose a CC-BY licence attribution. A list of eligible journals can be found here:
Emerald journals covered by Austrian OA agreement
Frontiers
Since spring 2018, researchers of St. Pölten University of Applied Sciences can publish their research in over 60 Frontiers journals with a 10% reduction on APCs. APCs arising from FWF-funded projects can be fully paid by the FWF. A list of journals can be found here: 
Sage
Sage and the Austrian Academic Library Consortium have concluded an agreement from 2016 to 2018. An element of it is the possibility to publish with reduced Open Access fees. Corresponding Authors affiliated with the participating institutions of the consortium may publish articles on significantly reduced Article Processing Charges (APCs) in approximately 800 journals of the SAGE Premier Collection. A list of journals can be found here: