c-tv - Creative Content Channel
Well-researched and technologically advanced reports on current topics, short films of festival quality, and pilot broadcasts – c-tv stands for creative content for young viewers, a test lab for new TV formats, and experiments with the moving image medium on all platforms.
The programme consists of:
Narrative and experimental film projects
Clips and animations
Short films
Music videos
VJ, ENG and studio productions
The content is broadcast and streamed via Okto TV, ORF III, ARD alpha, IGTV, and via livestream at campusfernsehen.at.
Creative Content Production
c-tv is an optional subject open to students of all study programmes. Be part of the c-tv team and turn your ideas into TV content and new formats!
Students of the programmes Media Technology (BA), Media Management (BA), Film, TV & Media (MA), Digital Media Production (MA) and Digital Design (MA) have the additional opportunity to contribute content developed in and out of courses.
If you have any questions concerning collaborative projects, please contact c-tv Head FH-Prof. Mag. Dr. Rosa von Suess and her team via email.
Go to our channel: The c-tvthek on our website
c-tv Conference
Obtain information on the latest trends in moving image production: the c-tv Conference is a regular highlight for many filmmakers, media professionals, students, industry experts, and other interested parties.
Seize the opportunity to engage in lively exchange with international experts through numerous presentations and workshops.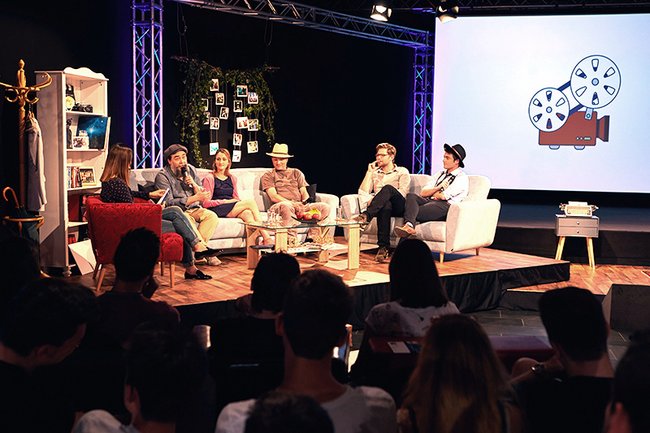 c-tv Conference 2018 on the topic of "High-Impact Content for Generation Z" | copyright: St. Pölten UAS, Mario Ingerle
c-tv Conference 2020
In addition to master classes for students held by industry experts, the topics discussed at the c-tv Conference 2020 included future questions pertaining to disruptive technologies in the film and television industry – a summary by ORF III is available here:

c-tv Lab
You would like to experiment with TV formats? To explore audiovisual media and develop them further?
The ctv-Lab allows you to collaborate with us through the Institute of Creative\Media/Technologies or within the framework of courses of the Master Class Film & TV in the study programme Digital Media Production (MA), the further education programme Film, TV & Media – Creation and Distribution (MA), and the study programme Media Technology (BA). Join us in shaping the future of moving image communication through digital technologies.