21 state-of-the-art iMac computer workstations are available for practical exercises and software trainings. Equipped with high-quality sound interfaces from Focusrite and a number of important software packages, these workstations allow all students to realise audio productions at the highest level. Among others, AVID ProTools, Ableton Live and MaxMSP are installed on each computer.
At 109 square metres, the lab offers plenty of room for experimenting with different digital and analogue mixers, PA loudspeakers and microphones in order to gather the practical experience that is indispensable for sonication and miking.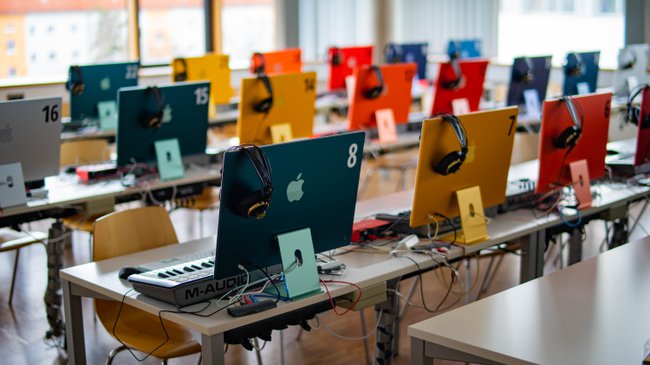 Audio Studio A and B
With a total of 70 square metres, audio studios A and B also provide ample space, and the recording and control rooms allow for recordings of the highest quality.
Due to the universal concept, the rooms are suited for music productions as well as for film and video dubbing. High-quality microphone preamps and interfaces from RME make it possible to produce the highest-quality recordings.
Equipment
For recording and editing, students have Avid ProTools, Steinberg Nuendo, Ableton Live and Logic PRO at their disposal.
At the heart of the studio is an AVID S6 as a high-quality, state-of-the-art user interface for recording, mixing and mastering at the highest level.
The loudspeaker set-up in combination with the Dolby Production Suite enables production in and for Dolby Atmos, MPEG-H and other 3D audio formats.
The studio computer is equipped with numerous special software for music production, mixing and audio post production.
Studio B also offers a Foley Sound area for recording and dubbing films and games.

Copyright: Peter Hackl-Lehner
Audio Studio C
Studio C is designed as a sound sphere and experimental studio, as well as a game audio studio.
It is used for exploring and composing sound installations and the application of various vector-based panning systems, as well as the production of 3D audio such as Ambisonics, MPEG-H and Dolby Atmos.
Equipment
2 networked workstations enable both game audio production with the latest software under Windows and sound and experimental production under Apple.
Steinberg Nuendo in combination with Spatial Connect also allows working in and for VR glasses.
For game audio designers, the studio also offers Audiokinetic Wwise.
In addition, the room is equipped with a recording booth for voice recordings.
All studios are connected to a DANTE network.
Part of the virtual campus tour
360 degree view! Discover the Audio Lab in the virtual tour.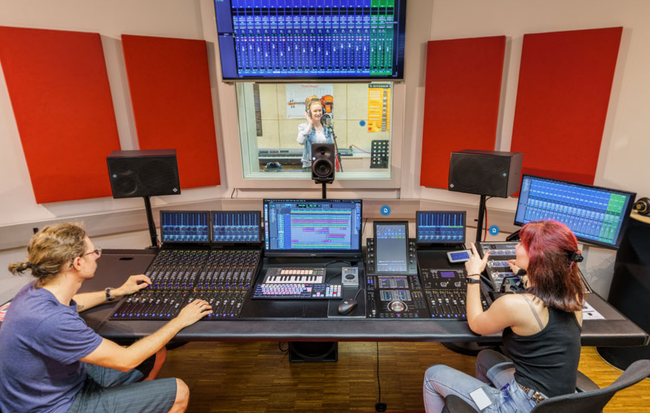 Where can I find the lab and studios on campus?
📍 Audio Lab: A.3.02 
📍 Audio Studio A–C: A.3.02a–c