At the Cyber Defense Center of the St. Pölten University of Applied Sciences, students have the unique and practice-oriented opportunity to familiarise themselves with tasks concerning monitoring, counselling and management in cyber security and to acquire and further develop competencies for their future application in companies.
To support our students' learning experience in the best way possible, we have created an environment where they are confronted with a combination of actual production data and simulated attacks.
The Cyber Defense Center (CDC) is made up of the Cyber Defense Lab and the Cyber Defense Command Center.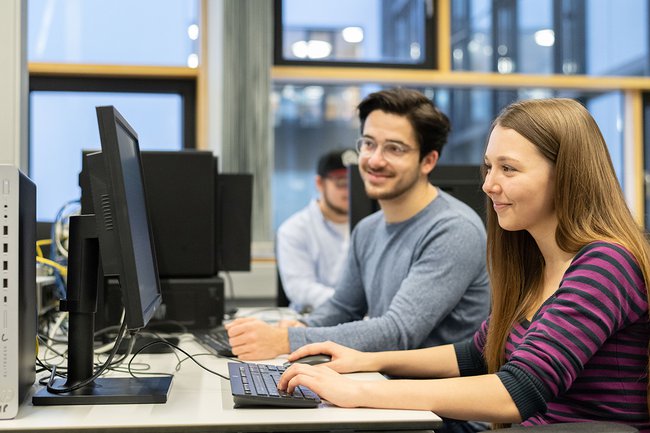 CDC Tasks
Monitoring: surveillance of system landscapes with the goal of detecting weak spots and acute attacks
Digital forensics: analysis of system components to identify potential causes of security incidents
Penetration testing: detection of weaknesses early on through simulated attacks in order to proactively secure systems
Malware analysis: identification and analysis of malware to counteract modern attacks
Disaster recovery: restoration of damaged systems to safeguard operations following system failures
Security awareness: training of users to prevent security incidents
Threat intelligence: analysis of current attack methods to detect threats early on and to initiate suitable countermeasures
Security management: identification and control of risks to continuously improve information security
Benefits
The Cyber Defense Center is embedded in all study programmes of the Department of Computer Science and Security. It gives our students access to a variety of new teaching and learning formats such as situational visualisation and analysis. These close-to-reality experiences are the ideal preparation for tackling attacks in professional practice.
With the help of on-demand attack simulations, the students can experience cyber attacks in real time, as it were.
The use of open-source technologies enables the students to gain a deep insight into all essential components of a Cyber Defense Center.
CDC Infrastructure
CDC Situation Room: fully automated storage room with direct access to all data sources & systems
CDC Analyst Room: computer lab with 25 analysis computers – 6 x 3GHz cores | 32 GiB memory | 512GiB NVMe | 3x gigabit
CDC Computer Cluster: 4 cluster nodes for the analysis of security results – 40 x 2.5 GHz cores | 256 GiB memory | 800 GiB SSD | 10 GBit/s SAN uplink
SAN: Multi-tiered NFS storage – 16 TiB SSD backend | 24 TiB SAS backend
Part of the virtual campus tour 
360 degree view! Discover the Cyber Defense Center in the virtual tour.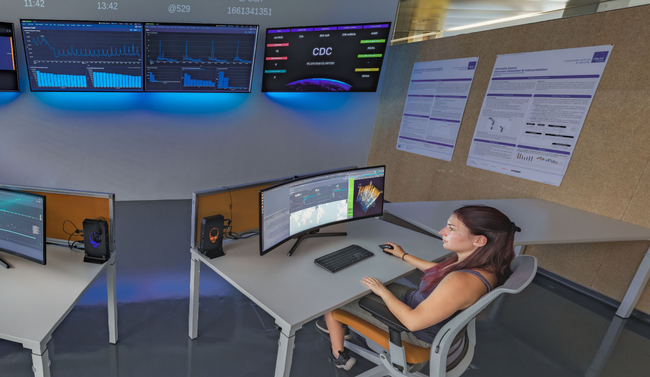 Where can I find the center on campus?
📍 Cyber Defense Lab: A.2.05 
📍 Cyber Defense Command Center: A.2.07