The Electronics Lab allows students of the technical study programmes to put their previously acquired theoretical knowledge into practice in the form of simple exercises. In this way, they consolidate their basic knowledge in the fields of electronics, mechanical engineering and software engineering.
Copyright: Christoph Braun
For teaching purposes and individual project work, the lab offers a large inventory of tools, measuring instruments, building components, sensors and actuators, and high-performance computer systems including the latest software packages in the areas of simulation and development.
While the Electronics Lab and its basic equipment are accessible for students and researchers 24/7, additional high-quality state-of-the-art equipment can also be procured in case certain tasks require it. The available devices include, for instance, a vector signal generator, spectrum analysers, signal generators, network catalysts, 3D scanners, and digital broadband oscilloscopes.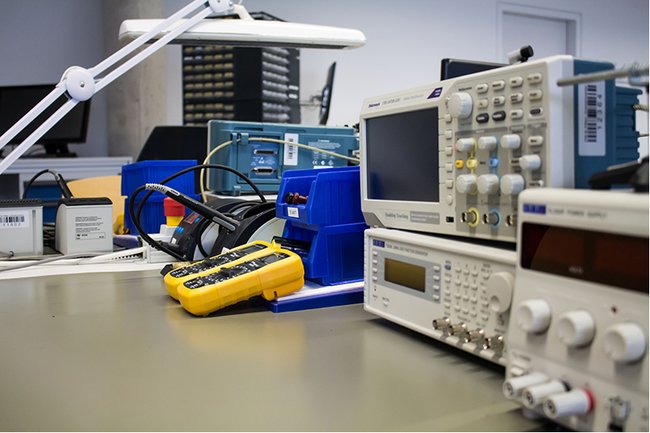 Basic equipment of the Electronics Lab workstations | Copyright: Christoph Braun
Maker Corner
Additionally, the specifically designed Maker Corner gives students the opportunity to work on their own prototypes for projects or final theses whenever they wish. For this purpose, the Maker Corner features tools such as a soldering station, milling machines and drills, and digital fabrication tools such as 3D printers, a laser cutter and 3D modelling software packages.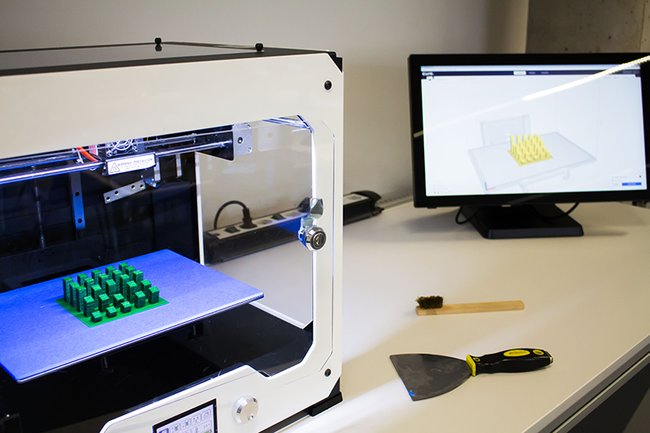 Copyright: Christoph Braun
Virtual all-round view
Elektronik-Labor | Copyright: Christoph Braun/FH St. Pölten