Teaching and training – the labs are perfectly suited for practical classes within the framework of the bachelor degree programme Healthcare and Nursing and the further training programme Preclinical Treatment and Care. This is where theory can be directly translated into practice!
Space Concept
The room concept of the Health Labs encompasses two areas:
A seminar room for teaching with highly modern technical equipment
A clinical area with hospital beds for practical training exercises. These areas can be individually adjusted to different requirements, settings, and competence levels and thereby allow for professional simulation.


3 x for 28 people with at least 4 hospital beds
1 x for 28 people with at least 2 hospital beds
1 x for 32 people with 6 hospital beds
Equipment
The labs' extensive equipment includes:
An audiovisual multi-perspective recording and debriefing system for professional simulation
Modular patient simulators
Training units for patient care skills to acquire specific capabilities such as:

Realistic catheterisation units
Blood drawing units

Clinical equipment, e.g.:

Modern hospital beds
Mobilisation aids (such as Thekla chairs, rollators, and wheelchairs)
Infusomats & Perfusors
Care and bandage trolleys
Different types of imaging processes and monitoring systems (such as BladderScan, pulse oximetry, glucose monitoring, BGA analysis, ECG analysis, Nursing Anne, Resusci Anne)

Various training materials and aids for patient care as well as different training scenarios (nursing scenarios) including:

Personal care
Mobilisation and positioning
Incontinence care
Wound management
Reanimation and primary aid

WigaSoft patient documentation WicareIDoc
Augmented and Virtual Reality
Modern screens, whiteboards
And much more
Part of the virtual campus tour
360-degree view! Discover one of our Health Labs in the virtual tour.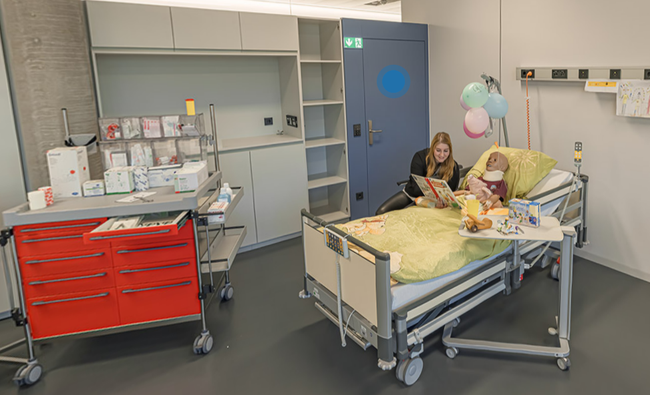 Where can I find the labs on campus?
📍 Health Labs: B.3.05–B.3.08 – Download Navigation Guid (PDF)