MTSC Rental Service (Media Technology Service Center)
Over 3,500 rental items on a floor space of more than 100 m2 are available to students for the implementation of their projects and productions. Using an online rental system, students, lecturers, and researchers can book rental equipment, certain labs, and lab spaces around the clock and pick up, return, or utilise them during opening hours.
The team at the Media Technology Service Center also provide assistance and consulting in case of request and uncertainties regarding the equipment and labs.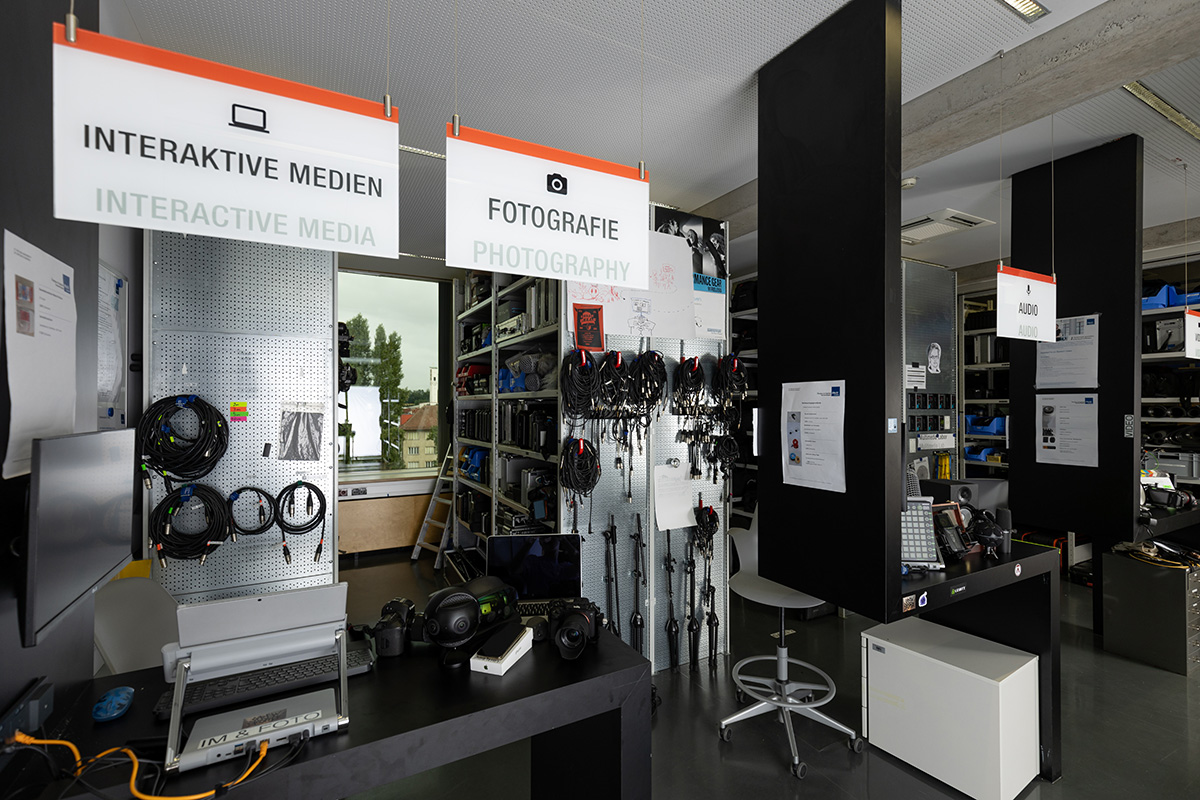 The online rental system can be accessed at: https://verleih.fhstp.ac.at/
The opening hours of the MTSC Rental Service (A.3.13) can also be found on the homepage of the online system.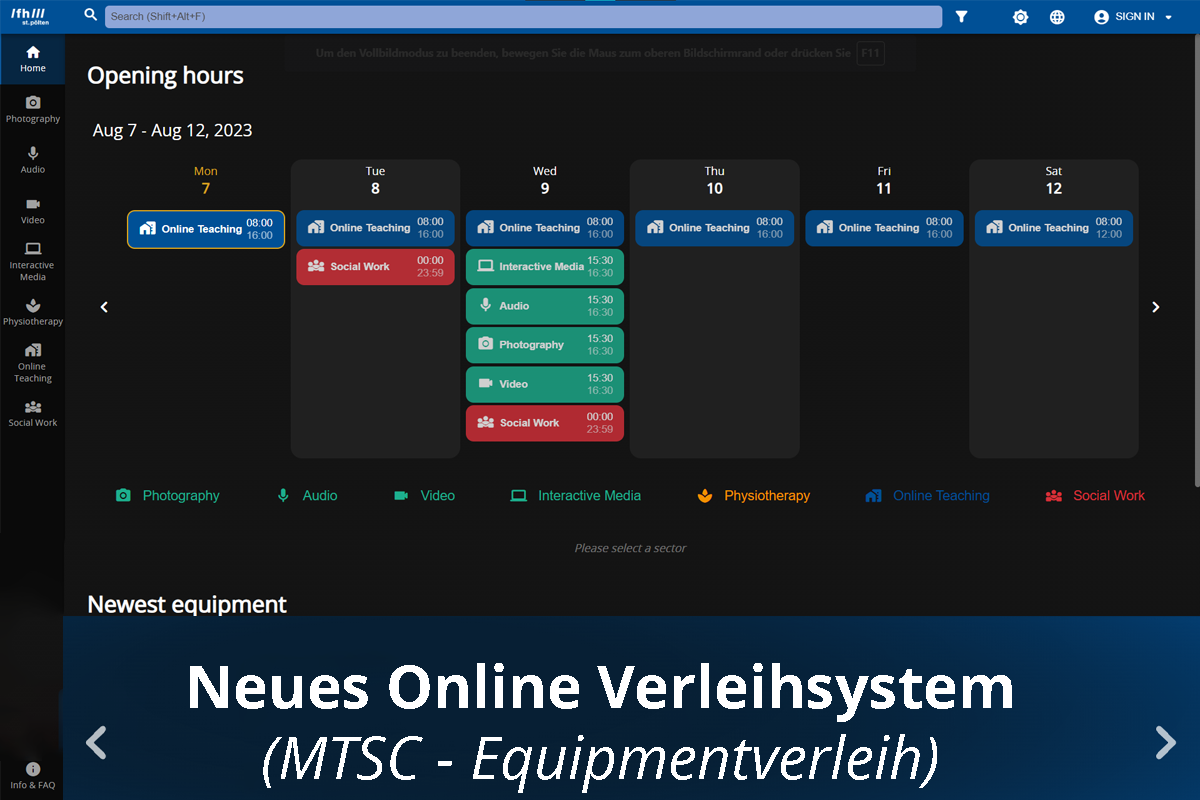 Copyright: Paul Lutz
The MTSC Rental Service is divided into various competence and topic areas, both within the online rental system and on site.
The different areas are:
AUDIO
Students can find microphones, mixers, and other studio equipment to produce high-quality sound for their projects and productions.
VIDEO
With the help of high-quality video cameras, spotlights, and other top-notch production equipment, students can bring their creative visions to life.
PHOTOGRAPHY
Students have access to cameras, tripods, and flash units to capture moments and tell visual stories.
INTERACTIVE MEDIA
Using augmented/virtual reality glasses, students can create and immerse themselves in new worlds as well as utilise laptops, tablets, smartphones, and microcontrollers to create interactive media projects.
PHYSIOTHERAPY
Here students can borrow various medical equipment and utensils such as a mobile ultrasound device and laboratory access cards for physiotherapy exercises.
ONLINE TEACHING
With webcams and microphones, headsets and graphic tablets as well as laptops, lecturers can teach their content online using a professional setup.
SOCIAL WORK
Here students can borrow supporting equipment for conducting focus groups, interviews, and studies.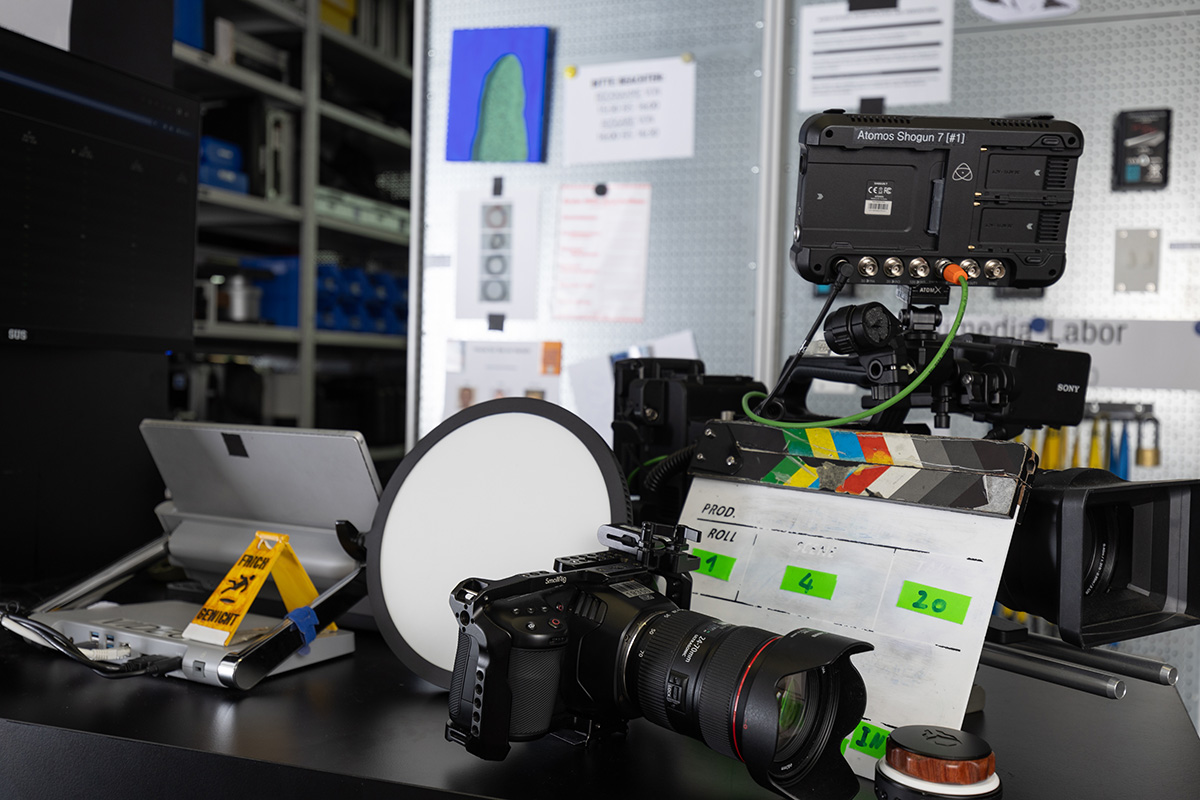 Copyright: Paul Lutz
Beyond the competence area of Media & Digital Technologies, the online rental system also allows for the booking of items and certain labs in other disciplines of the university, such as online teaching and social work.
The MTSC Rental Service is operated by the Lab Service Team which also oversees various labs. Students, lecturers, and researchers are advised and supported on how to best complete their courses, research projects, and student productions.
The extensive catalogue is constantly expanded and further developed, as seen in the online rental system under "Newest Equipment."
Where do I find the centre on campus?
📍 Media Technology Service Center (MTSC): A.3.13 – Download Navigation Guide (PDF)
You want to know more? Feel free to ask!