With 160 square metres, the TV studio of the St. Pölten UAS offers plenty of space and state-of-the-art equipment to simulate and learn all relevant work fields in video and TV production.
The recording room covers an area of 130 square metres and provides room for various exercises and productions.
The TV studio is designed for interdisciplinary use and can be converted from an 8.5 metres wide and 6 metres deep green box into a black or white studio environment using a curtain and floor system.
Equipment
The signals of the six professional HD camera units are controlled and recorded from the separate direction space. It is possible to connect further camera systems as well. All incoming and outgoing signals are brought together in a crossbar using patch fields, so that the users can decide at any point which sources to process with the twelve-channel video mixer.
The feed and recording are carried out using an eight-channel graphics and video playout system of the company CasparCG. Real-time graphics (e.g. font generator or on-air graphics) are integrated via systems of the company Vizrt (Viz Artist & Trio) and the software Ventuz. Video and audio measurement technology (wave-form monitor, vectorscope, loudness meter) can be used to monitor the quality and broadcasting suitability of the signals at any time. In addition to the recording function, TV studio productions can also be broadcast on the various platforms (Facebook, YouTube, etc.) by means of a separate streaming server.
The recording room equipment of the TV studio includes 22 ARRI Fresnel lens spotlights of different power classes (650W, 1kW, 2kW) as well as 13 Nesys surface area lights for basic lighting. In addition, two VariLite VL1000 Moving Lights and ten LED PAR colour changers are available for effect lighting. These versatile lighting scenarios are controlled either using the grandMA Micro console or a specifically programmed touch surface with very intuitive handling, as well as directly via tablet or smartphone.
Moreover, the studio features an infrared camera tracking system for virtual studio applications and a suit for motion capture recordings.
A special characteristic of studio usage is that after they have completed the introductory course, the students are allowed to work in it 24/7, even on the weekends and during holidays (365 days a year, 24 hours a day). This regulation applies not only to the TV studio but to all labs at the St. Pölten UAS.
Part of the virtual campus tour
360-degree view! Discover the TV Studio in the virtual tour.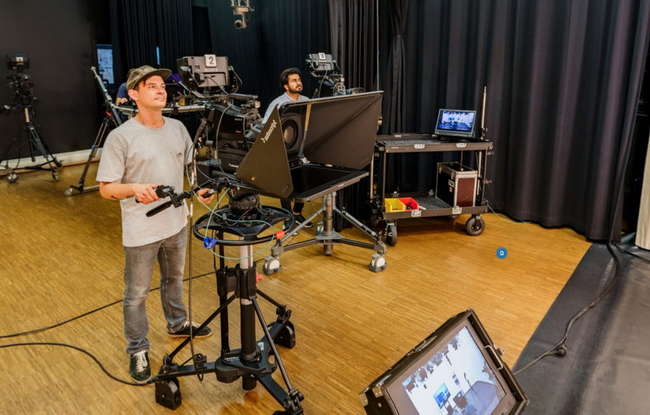 Where can I find the studio on campus?
📍 TV Studio: A.3.05 – Download Navigation Guide (PDF)