Erasmus Student Network St. Pölten (ESN St. Pölten)
Although obstacles might occur studying abroad is said to be one of the most amazing experiences in a lifetime.
To help international students navigate through their stay in St. Pölten and make this time of their lives even more special, the Erasmus Student Network St. Pölten is here for them in any situation. Whether they need support during their arrival or at any time during their stay, the ESN team is always happy to help.
What does ESN St. Pölten do?
The main goal is to organise events, trips and informal get-togethers to help international students not only to get to know each other better but to also to experience the Austrian way of life.
The ESN St. Pölten is responsible for supporting international students and to ensure their social well-being during their stay in Austria.
The Buddy Network provides individual support and guidance for incoming students. The buddies, who are all studying at the UAS St. Pölten and participate in this programme on a voluntary basis, are allocated to an incoming student at the beginning of every semester and are able to connect with them on a more personal level as they offer personal help according to the needs of the exchange students.
Who Is the ESN St. Pölten and How Can I Participate?
The Erasmus Student Network St. Pölten includes:
the ESN St. Pölten Chairperson
the team members of the ESN St. Pölten
the buddies of the ESN St. Pölten
They all play a significant role in supporting the international students.
Moreover, all incoming students automatically become members of the ESN St. Pölten upon their arrival. International degree-seeking students may also benefit from an international student membership in the ESN St. Pölten to help them in the onboarding process during their first semester in Austria.
You Are An Incoming Student?
You will automatically receive information on ESN activities as soon as you arrive.
You Are A Student of the St. Pölten UAS?
You can join the ESN team. Contact us at esn@fhstp.ac.at.
Follow us on Social Media!
On Instagram we post event tips and exciting information about studying and living in Austria.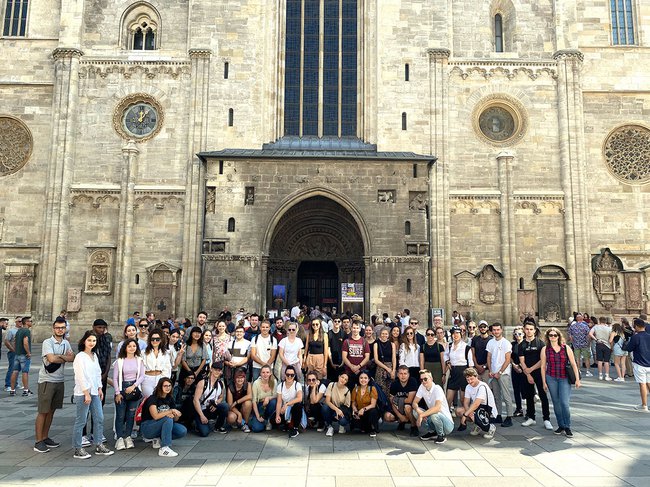 Excursion to Vienna - international students in front of St. Stephen's Cathedral| Copyright: Cornelia Plott
You want to know more? Feel free to ask!
Judith Dürnberger, MA
Team Member Incoming Student Mobility
Office for International Relations