We're European University

Studying at a European University
St. Pölten University of Applied Sciences is part of the European University Alliance E³UDRES². Our university leads this network, which includes a total of 9 higher education institutions from all over Europe. Together as E³UDRES², the alliance works closely to make a significant contribution in the areas of higher education, research and innovation.
E³UDRES² offers students easy access to international exchanges throughout Europe:
Events like Hackathons, I Living Labs or Bootcamps give you the possibility to escape your bubble, get to know people from different cultures and experience hands-on co-creation and innovation.
This program of excellence of the European Union also provides numerous possibilities for easy short-term mobilities which will add international experience to your CV. All formats are open for our students - regardless of degree programme or background.
You can find more info on the E³UDRES² website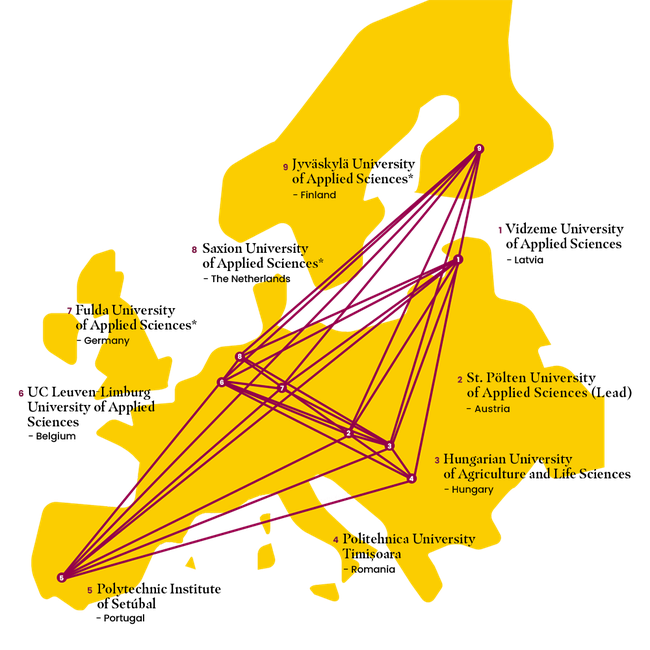 This is E³UDRES²
E³UDRES² stands for "Engaged and Entrepreneurial European University as Driver for Smart and Sustainable European Regions" and promotes the development of small and medium-sized cities and their rural environments into smart and sustainable European regions, and also explore how universities will work in the future.
E³UDRES² integrates challenge-based education, mission-oriented research, human-centred innovation as well as open and engaged knowledge exchange as interrelated core areas and aims to establish an exemplary multi-university campus across Europe.
It all starts with a challenge
The times of traditional teacher-student settings are over, at least in E³UDRES²: By developing innovative, challenge-based educational formats that break up the role norms, E³UDRES² gives participants the chance to collaborate in all-new ways.
Formats like Hackathons, I Living Labs or Bootcamps give educators and learners the possibility to work together in novel ways, finding solutions to real-life challenges handed in by regional stakeholders – and through this help develop their regions.
Research with & for Society
E³UDRES² has formed three research networks to investigate pressing topics that will impact our future. Research is crucial in the development of Future Universities and Smart & Sustainable Regions – while the research in E³UDRES² considers regional inputs, the European scale and character is always retained.

The E³UDRES² European University Alliance is co-funded by the Erasmus+ Programme of the European Union and additionally financed by national Erasmus+ funds in the OeaD-GmbH.
You want to know more? Feel free to ask!
Ramona

Mauthner

,

BA
Visual Design and Communications Management E³UDRES²
Executive Officers
Mag.

Gabriele

Permoser
Head of Service Unit
Research and Knowledge Transfer