Creative Media Summer School 2022
High-quality continuing education for students on current topics in the field of media technology and creative industries.
Last week, the Creative Media Summer School took place as a hybrid event at the St. Pölten UAS – a format that has been established for years for in-house as well as external students to acquire knowledge and skills in workshops and discussions or to further deepen them. Internationally renowned speakers and workshop leaders provided high-quality training and up-to-date information from the industry. This year's summer school focused on artistic practice, creative processes, technical implementation, and theoretical reflection on various topics related to media and digital technologies.
One Week of Creativity, Art & Technology
At the Creative Media Summer School, around 75 participants were able to choose from a total of 7 different workshops held by and with international experts from the field of media technologies. The students were thus given the opportunity to acquire basic professional knowledge and put it into practice, or to gain even more knowledge in a specialised area.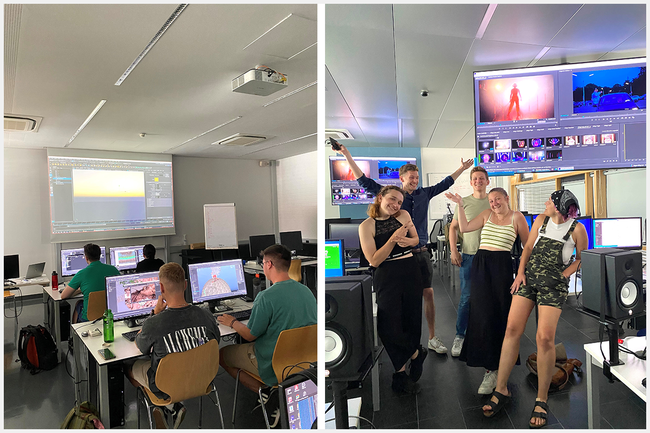 "For many years, we have been striving to ensure that both the creative process and the technical implementation with digital technologies are seen as two sides of the same coin. Every year, the Creative Media Summer School gives students the opportunity to experience just that in their workshops", says Franz Fidler, Head of the Department of Media & Digital Technologies.
Art & Tech – Artificial Creativity
A special highlight of this week was the panel discussion "Art & Tech – Artificial Creativity", in which two workshop leaders from the US – Clara Blume (Open Austria) and Andrew Blanton (CNMAT University Berkeley) – gave exciting insights into their work and the topic. Together with Christopher Widauer (The Mozart Experience) and Andreas Fraunberger (Junge Römer), they discussed, among other things, how state-of-the-art digital technologies can be harmonised with creative processes and what it means to be human in the digital age.
Future Tech Bootcamp

In parallel with the Creative Media Summer School, the Future Tech Bootcamp also took place once again. At this special event format, industrial companies presented current technical challenges and collaborated with makers – freelance developers, hobbyists, students, start-ups, and SMEs – to develop initial solutions within 4 days.
You want to know more? Feel free to ask!
FH-Prof. Dipl.-Ing. Dr.

Franz

Fidler
Head of Department
Academic Director Digital Design (MA)
Academic Director Digital Media Production (MA)
Academic Director Interactive Technologies (MA)
Course Leader Digital Future Management (certif.)
Department of Media and Digital Technologies
Member of the UAS Board from 2023 to 2026