Digital Healthcare at rtaustria Congress
Andreas Jakl and some of his alumni joined this year's Radiotechnology Congress with presentations and posters
"The digitalisation has the potential to considerably improve the quality of healthcare and to reduce the workload of medical staff at the same time", says Andreas Jakl, Academic Director of the St. Pölten UAS' study programme Digital Healthcare, on the occasion of the Austrian Radiotechnology Congress in Graz at the end of April, in which he participated together with three of his graduates: Bernhard Ruhrhofer, Anna Springer, and Stefanie Pirzl.
Radiotechnologists are experienced professionals in the diagnosis and therapeutic treatment of acute and chronic problems. Due to spending cuts in the healthcare system as well as demographic changes and personnel shortages, they have been facing increasing physical and psychological stress. So, how can the current healthcare crisis be averted? Can the digitalisation or changes in work processes contribute to easing the situation? These were some of the questions addressed by the participants of the multi-day congress.
Medical Know-How & Technological Trends
With his presentation on the topic of AI, language assistants, and Mixed Reality, Andreas Jakl highlighted how these technologies can already be applied in practice. "It makes me very proud that many of our alumni held scientific poster presentations and speeches at the Congress. The study programme Digital Healthcare offers radiology technologists the ideal opportunity to combine their applied knowledge with practical digitalisation projects", explains Jakl.
Another presentation was held by St. Pölten UAS graduate Anna Springer. "The master degree programme Digital Healthcare allowed me, together with five fellow students, to implement an audiovisual feedback system for use in radiotherapy, which I later perfected and tested in the course of my master thesis. It was with great pleasure that I introduced the project 'BreathX', which is very close to my heart, to many interested persons from the field of radiology technology at this year's rtaustria Congress", she emphasises.
She goes on to say that the exchange with professional colleagues gave her more detailed insights into this topic and revealed the actual need for such a system in clinical everyday life.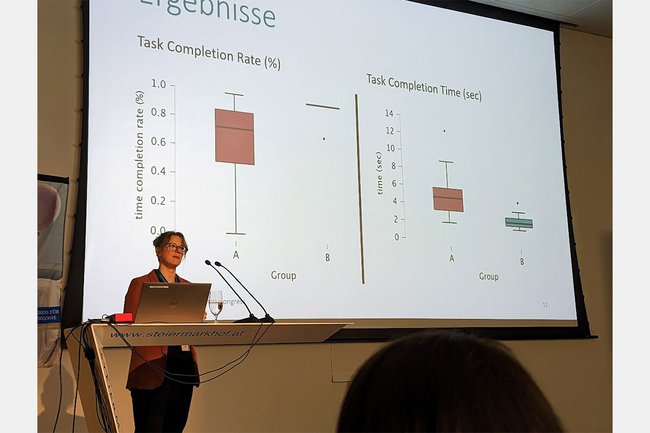 Reform of an Occupational Profile
In the opinion of our graduate Bernhard Ruhrhofer, radiology technologists have always been confronted with change and reformation. "Current challenges include the use of AI and 3D visualisation", he says. In the exhibition area, he presented his master thesis titled "Informed consent based on 3D data visualization vs. patient information based on legal regulations".
"In my master thesis, I examined the 3D visualisation of medical image data very intensively, which makes me feel that I'm actively involved in reforming our occupational profile", explains Ruhrhofer. In his master degree programme, he gained valuable inputs from the field of digitalisation which complement the medical specialist knowledge of radiology technologists in a meaningful manner.
Graduate Stefanie Pirzl also presented her project titled "MR-SAFE – Prototypische Entwicklung und Evaluierung einer App für medizinisches Fachpersonal zur Abfrage der MRT-Tauglichkeit von kardial implantierbaren elektronischen Geräten unter Verwendung eines User Centered Design Prozesses" (MR-SAFE – Prototypical Development and Evaluation of an App for Medical Professionals to Assess the MRT Suitability of Cardially Implantable Electronic Devices Using a User-Centred Design Process) in the poster sessions.
You want to know more? Feel free to ask!
FH-Prof. Andreas Jakl, MSc
Academic Director Digital Healthcare (MA)
Lecturer
Department of Media and Digital Technologies