Seal of Approval for Workplace Health Promotion
ÖGK (Austrian Health Insurance Fund) Award for St. Pölten UAS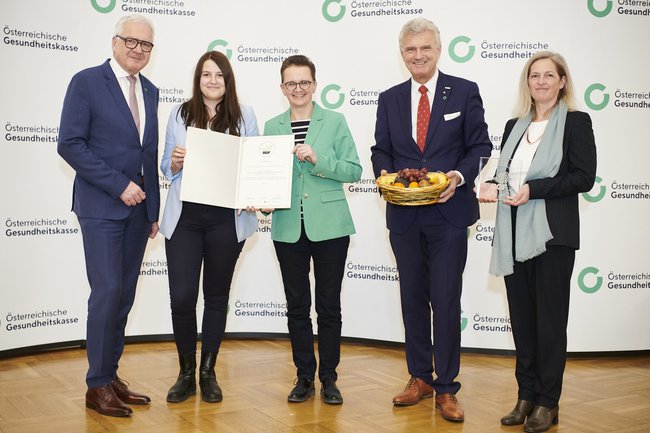 For its commitment to workplace health promotion, the St. Pölten University of Applied Sciences received the "Betriebliche Gesundheitsförderung (BGF)" (workplace health promotion) seal of approval from the Austrian Network for BGF. The award and a plaque, which are valid for the years 2023 to 2025, were presented yesterday by the Austrian Health Insurance Fund (ÖGK).
Health Management as part of UAS Strategy
 ​"The St. Pölten UAS is one of the most important employers in the region. The well-being and health of our employees are very important to us. With the workplace health promotion programme 'FHit!' and our wide range of offers, we create better working conditions, make an active contribution to health promotion, and help employees to improve their personal health competences which, in turn, contribute to greater satisfaction and motivation. We would like to thank the project managers of the UAS service unit HR & Legal Affairs and the project team as well as the numerous employees who have contributed ideas and commitment over the last few years and have thus helped to further develop the project", says UAS Executive Director Johann Haag.
"As part of the workplace health promotion programme 'FHit!', the St. Pölten UAS has been actively promoting the well-being and health competence of its employees through a number of different measures since 2019. The UAS has also anchored the promotion of the physical and psychosocial health of its staff members through workplace health management in its strategy", says Silke Seper, Head of the UAS service unit Human Resources & Legal Affairs.
"We, the Works Council, have been involved in the activities for workplace health promotion from the very beginning. We are pleased that the St. Pölten UAS is taking significant steps to strengthen the health and health awareness of its employees. The measures for burnout prevention and intervention have been particularly important to us", adds Ewald Volk, Chairman of the Works Council of the St. Pölten UAS.
From Healthy Snacks to Online Yoga
The measures include: a blog with health tips and video instructions, for example on physical relaxation at the workplace; information and tips on healthy eating and cooking, and FHit! snacks for employees (e.g., nutrition street, digital health day, regular fresh fruit); promotion of exercise at work and during leisure time (e.g., the online yoga class "OMMMline", coverage of participation fees for the Vision Run); measures relating to mental health (e.g., burnout intervention guide, psychological support in the event of burnout or other stress factors; various remote motivation measures); further training in the area of health (e.g., resilient leadership, digital detox, stress management); and offers for occupational safety and medicine (e.g., flu and tick vaccinations, health checkups, ergonomics checks).
You want to know more? Feel free to ask!
Mag. Mag.

Silke

Seper
Head of Service Unit
Human Resources and Legal Affairs
Sandra

Weidinger

,

MSc
HR Business Partner
Human Resources and Legal Affairs
Mag.

Mark

Hammer
Section Head Press
Marketing and Communications