Course contents
Master programme Digital Healthcare
The curriculum places a strong emphasis on student-centred and problem-based learning. The majority of the course contents is taught within the scope of projects in line with the programme's focus on professional skills.
Core Competencies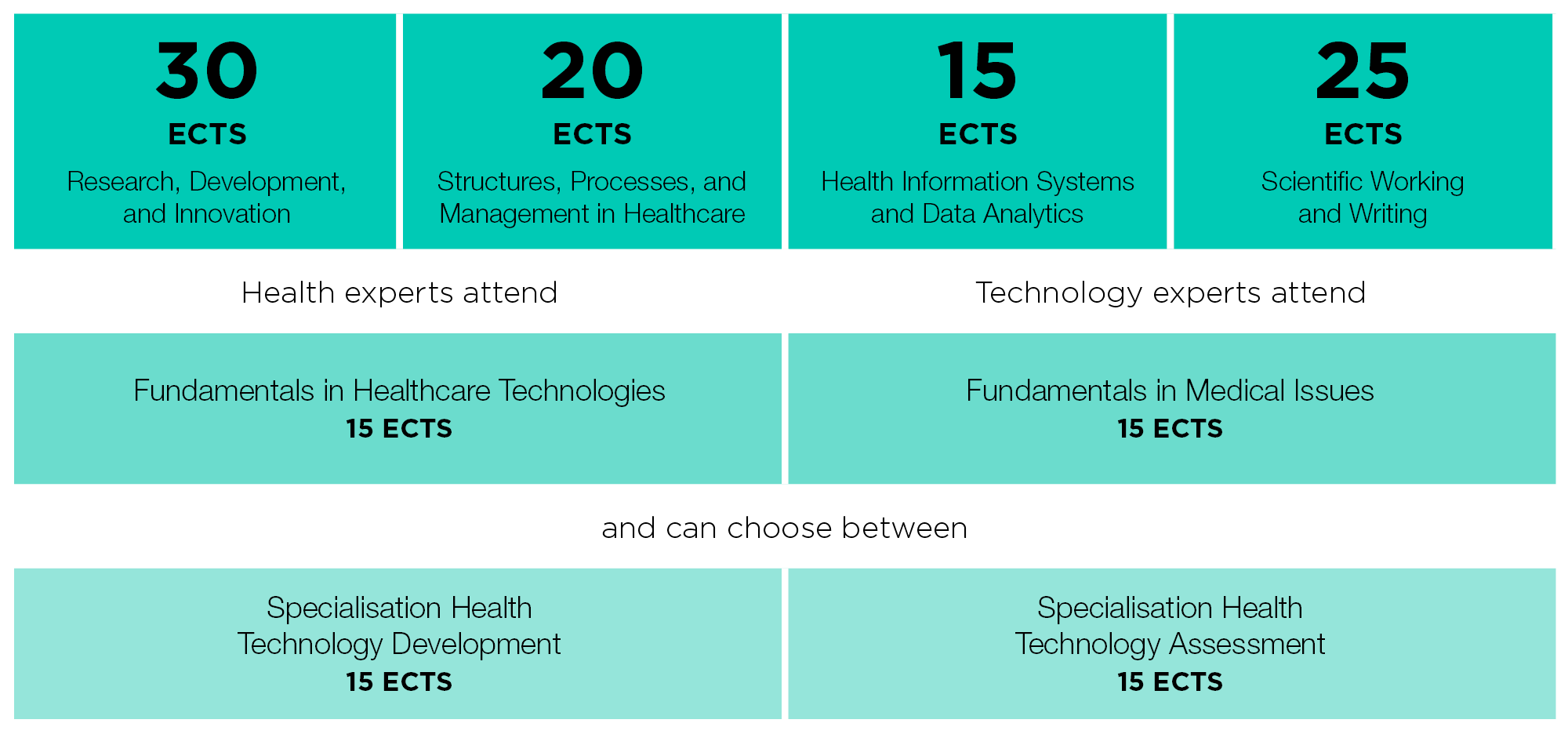 1: Digital Healthcare module
Project- and problem-based learning in interdisciplinary groups (students from both technical and healthcare backgrounds) encompassing the entire development cycle: idea generation, planning, testing, evaluation and optimisation, documentation and commercialisation.
2: Research, Development and Innovation module
In an interdisciplinary environment, students broaden their professional skills in the areas of idea generation and development, research, quantitative and qualitative analysis methods and innovation processes. The final dissertation is also part of this module.
3 and 4: Fundamentals in Medical Issues/Fundamentals of Healthcare Technologies
Students acquire the basics in either healthcare technologies or a range of healthcare topics, depending on whether they come from a technical or healthcare background.
5: Healthcare Technology Development specialisation
Expertise for the design and specification of technology-based healthcare solutions.
6: Healthcare Technology Assessment specialisation
Expertise for the objectives-focused assessment of digital technologies and media in the areas of prevention, diagnostics, treatment, rehabilitation and care.
7: Structures and Processes in Healthcare module
Structures, processes, general frameworks and objectives in Austrian and European healthcare.
8: Economics, Law and Management module
General and specialist skills in the areas of business, law and management, costing and accounting, healthcare law, leadership, quality management and medical marketing.
Blended Learning Concept
(= a combination of in-class lectures and e-learning meetings)
| | |
| --- | --- |
| Overview | |
| In-class week | Introduction into the study programme, getting to know each other, training for UAS-systems etc. |
| Every other week | Friday 1pm - 8pm, Saturday 9am - 6 pm  |
| Online room | Additional courses are held via the online room (=virtual classroom) (Tuesday and Wednesday 7pm - 8.30pm) |
| Online platform | Free scheduling on the online-platform for Digital Healthcare |