In line with the department's strategy, our degree programmes and research activities are closely linked and address a range of areas. We have implemented innovative learning formats such as the European Project Semester, which offers international students a semester of courses taught in English. Our dual-system vocational approach means that the Smart Engineering programme curriculum includes an employment component, with work placements and in-company theoretical training blocks. We offer an interdisciplinary master degree programme which combines digital technologies and healthcare. Graduates of the programme are experts in the interdisciplinary planning, implementation, evaluation and development of technology-based healthcare innovations.
Fully equipped for the media world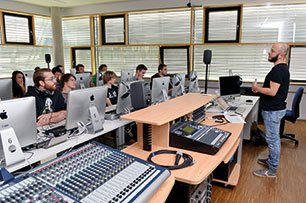 Students have access to our studios and labs, as well as all the associated equipment, 24-hours a day, seven days a week.