The Digital Health Lab (DHLab) is an interdisciplinary research lab at the interface of healthcare and digital technologies with a research focus on the patients and experts of various health professions.

At the St. Pölten UAS, the lab combines the competencies in the fields of machine learning, visual analytics, virtual & augmented reality, motion capturing, and human-computer interaction on the one hand with gait and motor rehabilitation on the other.
Our experts have extensive knowledge and many years of experience in the planning and execution of a variety of (clinical) studies and retrospective data analyses as well as in the conception, development and evaluation of interactive systems. This innovative research lab forms the basis for cutting-edge research at the highest international level. Its intensive networking with the business world as well as research and healthcare institutions makes sure that ideas can be translated into functional prototypes, thus ultimately creating products that meet the target groups' (e.g. patients') needs.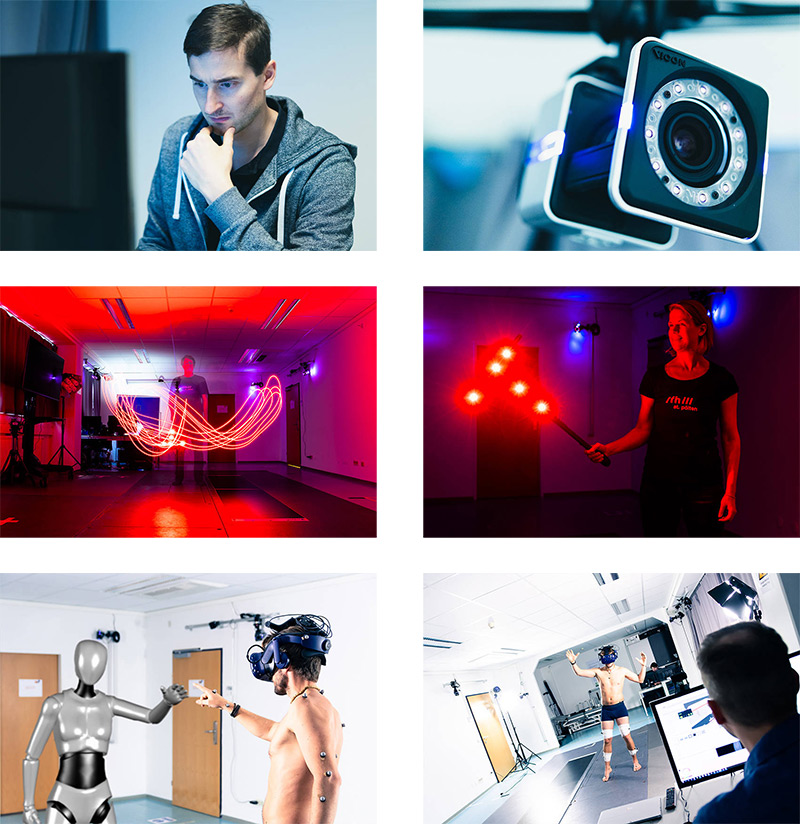 Copyright: Fabian Altphart (upper pictures) und Florian Kibler (rest)
The DHLab offers three equipment emphases:
Human Motion Capturing
Motion capture system (Vicon) for comprehensive 3D gait and motor analyses, cinematic character capturing and live avatar retargeting for immersive storytelling
8-channel electromyography system (Noraxon) for the quantification of muscle activity using surface electrodes
Pedobarography system (pressure distribution measurement) for clinical gait analysis (Zebris)
Force plate for measuring ground reaction forces (Kistler)
Ultrasound devices for the representation of anatomical structures
Hand-held dynamometer (MicroFET2) and various clinical (sports-related) motor test procedures

Copyright: Florian Kibler
Augmenting Realities and Virtual Environments
Human-Computer Interaction
Electronic workplace (for sensor and micro-controller development)
Smart devices and mobile terminals
3D printing for prototyping

Copyright: Florian Kibler
The Digital Health Lab is available for the purpose of collaboration in research and teaching in the study programmes and further education programmes of the Departments of Health Sciences and Media & Digital Technologies.
You want to know more? Feel free to ask!
FH-Prof. Priv.-Doz. Dr. Brian Horsak
Head of Center for Digital Health and Social Innovation
Senior Researcher Institute of Health Sciences
Department of Health Sciences
FH-Prof. Dipl.-Ing. (FH) Matthias Husinsky
Lecturer
Department of Media and Digital Technologies