Master Class Augmented & Virtual Reality
The Master Class Augmented & Virtual Reality is a unique academic master degree programme covering the design and development of digital 3D worlds. The focus is on the design, implementation and evaluation of interactive solutions in the fields of Virtual, Augmented and Mixed Reality.
Teaching Content
Concept and Design
The students discuss product ideas for various use cases in small groups. They research potential applications, the technical framework, target groups, and requirements. On this basis, they design several concrete variants of the product in areas of their own choosing, such as:
Simulations and professional training
Industry 4.0
Medicine and rehabilitation
Telepresence and virtual learning environments
Games and E-sports
Tourism and Architecture
3D visualisations and Product demonstrations
Intelligent Spaces
Development
For the concepts, the students create design mock-ups and test functional prototypes in the target technology.
In the project implementation phase, they develop executable Augmented, Virtual and Mixed Reality systems. Together with the practice-oriented development process, the accompanying evaluations of the user experience and technical quality form the prerequisite for creative, innovative and practically relevant solutions.
Implementation and Application
In a large-scale final project, the system is tested under realistic conditions and improvements are made in terms of 3D design, audio design, interaction & experience design as well as software development. Furthermore, the students gain experience in scientific and commercial utilisation possibilities for their product.
Examples from the Master Class Augmented & Virtual Reality
Poltergeist Bootcamp
Multiplayer Arcade VR Game for 2 players. In a 1950s American style kitchen, a budding young poltergeist has the task of causing greater chaos than his opponent.
Several game modes provide variety. Various options such as power-ups or objects to get in the way of the opponent ensure fun and turn the game into a sporty workout.
Ornitophobia VR
Overcoming real fears in a virtual space: students have developed an app that can be used in therapy to treat patients with a fear of birds. Thanks to artificial intelligence, the virtual pigeons can actually react to the real patients.
More information on Ornitophobia VR
Motex VR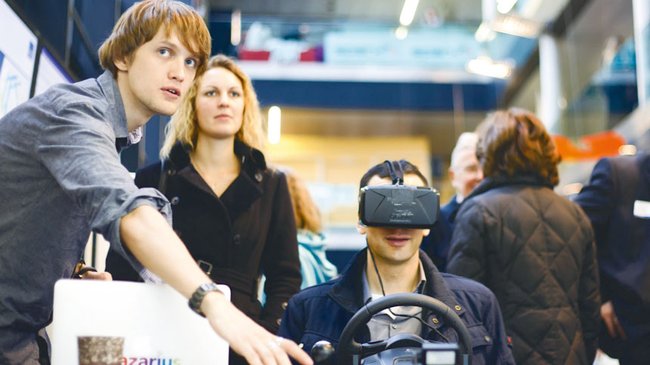 Virtual driving lessons! The VR driving simulator helps learner drivers develop a sense for traffic and allows for a high-quality and modern driving education.
The student project has since become a start-up (Nekonata) that successfully offers VR training products in the field of driver training for road and railways, as well as automotive retail
Master Class Team
Support from the Practical Realm
We rely on know-how from professional practice and collaborate closely with the following studios:
Choose your Master Class
Apart from Augmented & Virtual Reality, the study programme Interactive Technologies also offers the following Master Classes: 
You want to know more? Feel free to ask!
FH-Prof. Dipl.-Ing. (FH) Matthias Husinsky
Lecturer
Department of Media and Digital Technologies