Creation, planning and production of serial TV (studio) shows and video productions, especially in terms of convergent evaluation, e.g. TV, mobile and Internet, editorial and/or fictional content development, pre-production, and organisation of processing, recording direction and production.
Teaching Content
The focus is on the development, design and production as well as the technical implementation and presentation or distribution of new broadcast content.
Introduction to the Master Class
Project: Master Class Film & TV
Best of the Master Class Film & TV
Perspectives
The graduates of the St. Pölten UAS work in various fields of the media sector.
Some of their career profiles include:
Concept developer, editor, recording manager, DIT, news cutter, on-air graphic designer and production engineer for broadcasters such as ORF, ATV, Puls4, Pro7, Sat1, ARD, Servus TV, hr, MDR, and arte as well as production companies like Red Bull Media House, On Media, Filmpool and Zone Wien, and start-ups for digital production.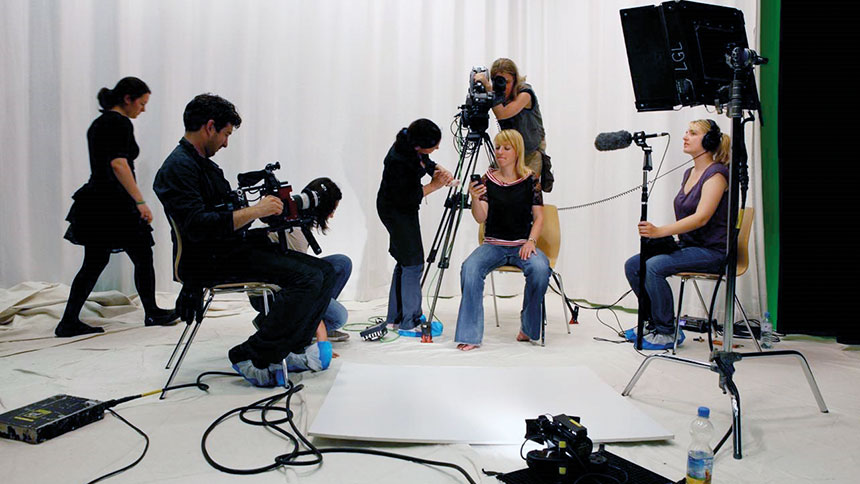 Copyright: St. Pölten UAS
Partners
At the film festival FEST, international film professionals share their expertise and work together with filmmakers of the St. Pölten UAS.
Read a report on the FEST 2019 here.

You want to know more? Feel free to ask!
FH-Prof. Mag. Dr. Rosa von Suess
Academic Director Media Technology (BA)
Lecturer
Course Leader Film, TV and Media - Creation and Distribution (MA)
Department of Media and Digital Technologies
Head of c-tv
FH-Prof. Dipl.-Ing. Lars Oertel
Lecturer
Deputy Academic Director Digital Media Production (MA)
Department of Media and Digital Technologies